Thousands of Barcelona residents took to the streets of the main city of Catalonia on Tuesday to protest, as they consider, the brutal actions of the Spanish police during the Catalan independence referendum.
Folk assemblies are held in several places at once against the background of the general strike declared on Tuesday throughout the autonomy also in protest against the arbitrariness of law enforcement.
Tens of thousands of people gathered at a rally at the University Square to declare their "right to vote and express their opinions." Above the crowd are a lot of "estelad" - red and yellow flags with a white star in the blue triangle, which serve as the main symbol of supporters of independence. Many demonstrators hold posters with inscriptions in English, the most popular of which is "Save our democracy."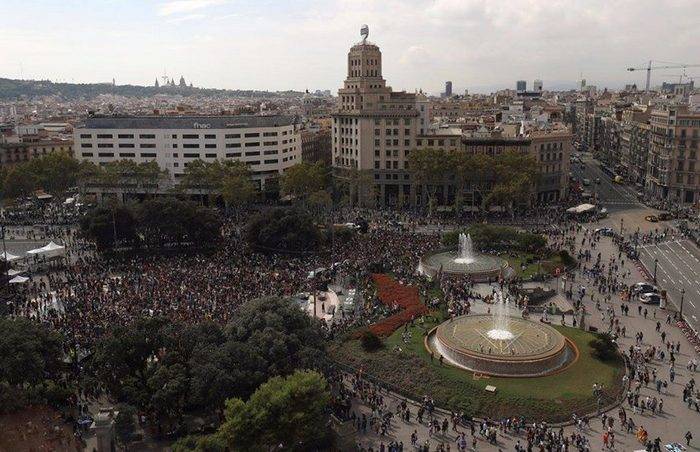 Protesters from time to time rattling the keys as a sign that they, despite the ban from the authorities, the courts and the prosecutor's office, managed to hold a vote.
Nationalist organizations called on the day of the "general strike" of October 3 to organize rallies as a protest "against the actions of Spanish law enforcement agencies on the day of the referendum."
The referendum on independence, which is not recognized by the Spanish authorities, and which was frozen before the Constitutional Court of the country even before it was held, took place this Sunday. In some areas there were clashes between the police and voters, there are wounded on both sides.
The Spanish government accuses the Catalan authorities of spreading false information about the victims of the protests. Nationalist organizations seeking the separation of Catalonia from Spain, the Omnium Cultural and the Catalan National Assembly on Sunday evening called on the people of October 3 to hold a "general strike", reports
RIA News