The press service of the Ministry of Foreign Affairs of the Russian Federation publishes a detailed official commentary of the department regarding the actions of the American authorities regarding Russian diplomatic property in the United States. We give a comment
Russian Foreign Minister
fully:
Despite the warnings, the US authorities did not heed the voice of reason and did not abandon their illegal intentions. Today they have completely captured all the premises of the Consulate General of Russia in San Francisco - the residential part of its administrative building, in whose service area American intelligence services have been hosting for a month, and the separate residence of the Consul General.
Washington committed a new gross violation of international law. Since December last year, the Americans have seized five Russian diplomatic facilities, which are our property, by force. And now the entrance doors were cracked, a total search was arranged inside.
We emphasize once again that we have never given and do not give the US authorities consent to the withdrawal of immunity from the Russian diplomatic and consular property, did not allow and do not allow any invasion of our facilities. Nobody invited the American agents there now. They are invaders. Their actions are unprecedented for
stories
bilateral relations arbitrariness.
We declare a strong protest against the next hostile US action. We reserve the right to reply. The principle of reciprocity has always been and is the cornerstone for diplomacy. Accordingly, we understand that the Americans, breaking into our overseas agencies, actually agreed with the possibility of a similar treatment with their representative offices in Russia.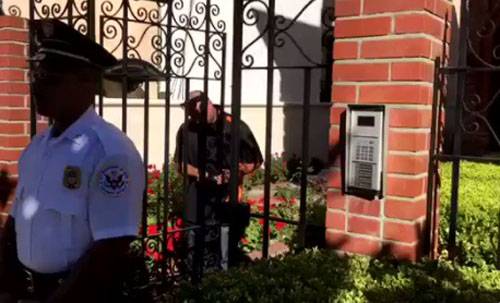 From this statement, it becomes clear that for American diplomats in Russia, the time for quiet work in the buildings of a diplomatic mission ends. Now, probably: the daily "inspections" of health services on the subject of cleanliness of the floor at the American consulates in St. Petersburg, Vladivostok and Yekaterinburg, unscheduled checks of the level of electromagnetic radiation and illumination "for the health" of American diplomats. And if the state fire control and phytosanitary services (for example, for the importation and use of American sanctions) begin to work at the consulates, then a happy life for diplomats from the United States will be provided.