The Pentagon issued a contract to General Dynamics Corporation to equip the Trophy of Israeli-made core equipment with Active Defense Complex (KAZ)
tanks
M1A2 SEPv2 Abrams, reports
bmpd
.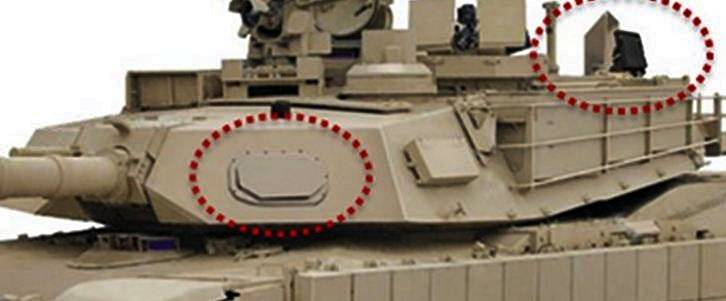 The installation scheme of the elements of the Israeli active protection complex Rafael Trophy on the American tank M1A2 SEPv2 Abrams.
The contract value was $ 9,9 million. One armored brigade will be equipped with active defense. Works must be completed by the end of March 2019.
"As you can understand, General Dynamics Land Systems should only install, integrate and provide technical support for Trophy systems under this contract, and the cost of purchasing the KAZ kits themselves is not included in this contract," the publication says.
Apparently, after the military trials, a final decision will be made on the quantity of KAZ purchased. At the same time, it is noted that "Trophy will be an intermediate solution before creating your own protection complexes under the Modular Active Protection System (MAPS) program".
The Trophy Active Protection Complex (Meil Ruach) was developed and manufactured by the Israeli company Rafael with the participation of the IAI Elta and approximately from the 2010 year is installed on combat tanks of the Merkava type of the Israel Defense Forces, and from the Namer 2014 heavy vehicles.
According to the resource, "in its current serial form, the KAZ Trophy has the Elta EL / M-2133 radar with four fixed antennas with PAR, and two rotary launchers firing shotgun shots to hit flying anti-tank ammunition."
KAZ Trophy is designed to hit relatively low-speed RPG grenades and ATGM missiles and is not capable of hitting sabot shells and high-speed ATGM. Like other modern defense complexes mounted on a tank, the Trophy imposes serious restrictions on the presence of infantry in a combat vehicle.