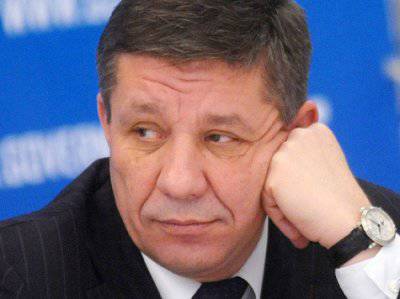 The management of the Russian Space Systems (Russian Space Systems) invites Vladimir Popovkin, who heads Roskosmos, to leave his post. Such a proposal, contained in an open letter, was posted on the company's website. Soon the letter was removed from the site, and the press service posted an ad that says that an open letter addressed to the head of Roscosmos, VA Popovkin, was published on the site by mistake. In fact, this letter was intended for posting on the Corporation's internal site.
The message, which was in the public domain, was signed by First Deputy Director General of the RCC, Honored Lawyer of Russia Ivan Golub. So, he wrote that after Vladimir Popovkin came into the rocket and space industry, events began to occur, "which can neither be understood nor accepted."
The letter emphasizes that Popovkin, being the leader of a high rank, can do with absolute impunity what previously seemed to everyone unthinkable. Golub offers the head of Roscosmos "quietly" to resign. At the end of the open letter, the deputy director of the RCC mentioned an incident involving a lot of noise involving the head of Roskosmos, which occurred in early March. In the message, Golub also wrote that he was shocked by the message about a drunken brawl in which Popovkin was involved.
Representatives of Roskosmos refute all rumors about a fight with the personal involvement of the head of the department. They are convinced that all the attacks of the RKS leadership on the head of Roscosmos are connected with the interview that Popovkin recently gave to the newspaper Izvestia. In it, he accused the RCS of embezzling funds that were allocated to the Russian GLONASS navigation system.
Popovkin then stated that during the audit, which was conducted by Roskosmos against the RKS company, it was established that a significant part of the funds allocated under the GLONASS program went through ZAO NPO KP, which had neither production, nor technical capabilities, nor a regime department . There are a lot of questions. And last year, when the Accounts Chamber was in charge of checking this structure, the auditors noticed that the funds were spent inefficiently.