Following the meeting with Turkish leader Recep Tayyip Erdogan, Russian President Vladimir Putin noted key advances in resolving the long-term Syrian crisis. The talks between the two presidents took place in Ankara, where the President of the Russian Federation arrived with a delegation.
According to Putin, who thanked the Turkish counterpart for the invitation, the situation has shifted from a dead end after the start of the implementation of the initiative on the so-called de-escalation zones in the SAR.
Official
President's website
quoted Vladimir Putin:
It must be admitted that the work on the implementation of this idea was very difficult - both for the parties involved in the Syrian conflict and for the guarantor countries of the "Astana" process: Russia, Turkey and Iran. But, despite the difficulties, we still managed to achieve a positive result. In fact, the necessary conditions have been created for ending the fratricidal war in Syria, the final destruction of the terrorists and the return of the Syrians to a peaceful life, to their native lands. This is an absolutely fundamental thing, which is important not only for the Syrian people, not only for the region, but for the whole world: we create conditions for the return of refugees to their homes. And this is of fundamental importance for intensifying the process of finding a long-term political settlement in Geneva under the auspices of the UN.
According to the Russian president, Russia and Turkey will continue to work together to resolve the conflict in the Syrian Arab Republic.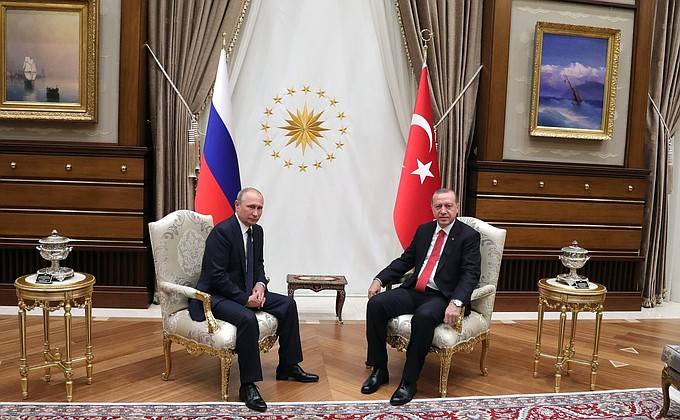 Erdogan, in turn, supported the continuation of contacts between Ankara and Moscow to resolve the Syrian crisis.
From the statement of the Turkish president:
With our dear friend, President Putin, during today's meeting we discussed the current developments in Syria, as well as the results of the last Astana meeting. In this regard, we discussed the work aimed at making the de-escalation zone functional in Idlib. I believe that the relevant authorities will work intensively in this direction.

We are pleased with the Astana meetings that strengthen the ceasefire, which contributes to the ongoing political process in Geneva with the mediation of the United Nations.