German Rheinmetall Group Announces Modernization Contract 104
tanks
Leopard 2 family into a new modification of Leopard 2A7V, reports
bmpd
.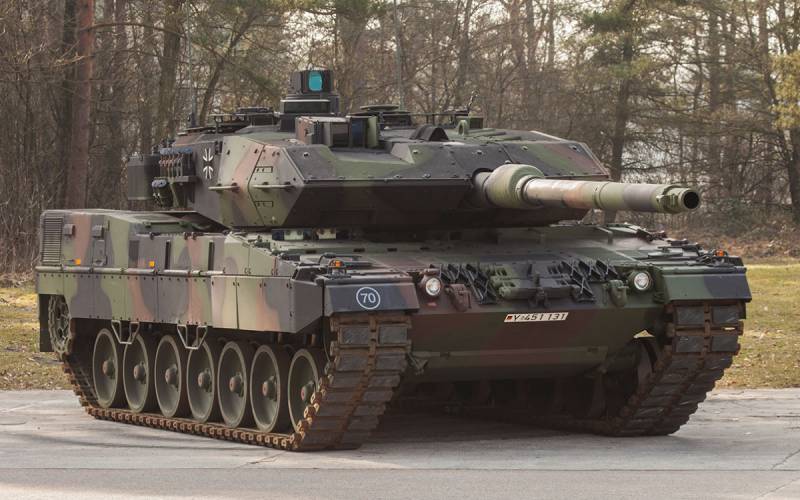 The contract value was 118 million euros, the start of deliveries of the upgraded tanks is scheduled for 2020 year.
"Upgrades to the Leopard 2A7V version are subject to 68 machines Leopard 2A4, 16 Leopard 2A6 and 20 tanks Leopard 2A7. Moreover, only the latest 20 tanks of Leopard 2A7 are now in the Bundeswehr, "the message says.
Earlier it was reported that 68 "Leopards" 2A4 will be purchased for upgrades from the presence of the Swedish army, and 16 tanks 2A6 will be acquired from the presence of the Dutch army.
Leopard 2A7V is a variant of further modernization of the Leopard 2A7 tank developed by the Rheinmetall group and was a competing proposal for the German Bundeswehr compared to the KMW version of the Leopard 2A7 +. In the designation of Leopard 2A7V, the letter "V" stands for "Verbessert," that is, upgraded.
According to Rheinmetall, 68 upgraded Leopard 2A4 tanks will get 120-mm smoothbore L55A1 guns (instead of the old L44), the rest will probably remain with their L55 guns.
Previously, the company announced that in addition to L55A1 guns, upgrades Leopard 2A7V should include "the installation of climate control systems, 17-kilowatt auxiliary diesel generator set Steyr M12, vnutriperegovornuyu Thales SOTAS system, combat information control IFIS system, improved sights commander and gunner with Airbus ATTICA thermal imagers; Saab Barracuda Multispectral Masking System; enhanced mine protection, MKM programming system for DM11 high-explosive programmable shots. For the rest (including armor protection), the tank must comply with the level of Leopard 2A7. "
However, from the current press release of Rheinmetall it is unclear what specific improvements were included in the contract - only the possibility of using DM11 shots was confirmed.
The first two prototype demonstrators 2A7V are planned to be transferred to the troops for testing in the second half of 2018.
The resource recalls that the acquisition program for the Bundeswehr 104 of the modernized Leopard 2A7V tanks was announced in April 2016 by the German Defense Minister Ursula von der Layen and is part of the plan to strengthen the German army for the 2020 year.