The Syrian government intends to resolve the issue of US presence in the UAR by diplomatic means, but is ready to consider other measures if diplomacy does not work, reports
TASS
Statement by the Foreign Minister of the Republic Walid Muallem.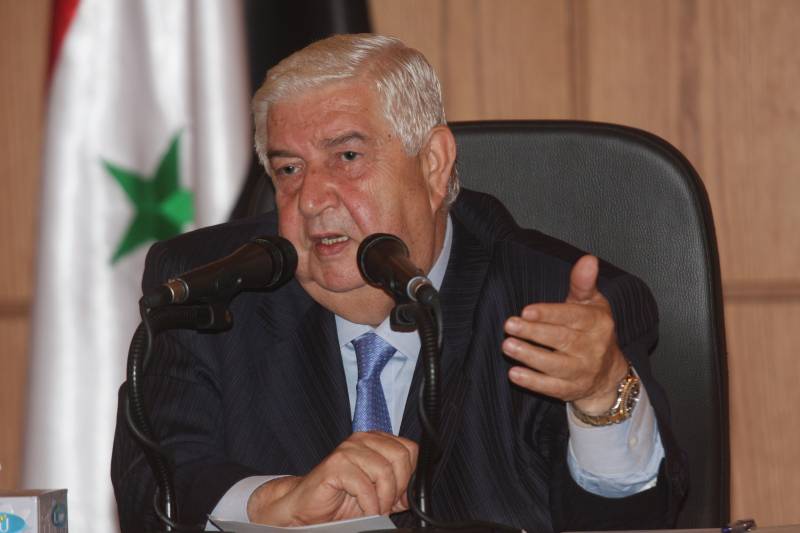 We will knock on all diplomatic doors, because the American military presence in Syria is illegal. There is no agreement from the Syrian government. When diplomacy is powerless, we will consider other options
said the minister.
According to him, Damascus will act within the framework of the sovereignty, independence and territorial integrity of Syria.
The Americans came to us, not we to them,
added moallem.
In turn, Syria's Permanent Representative to the UN, Bashar Jaafari, said that the Americans and their allies are preventing the government forces from freeing Deir-ez-Zor.
The Syrian and Russian ministries of defense announced that Deir-ez-Zor will be freed from the IG (the group is banned in the Russian Federation) for one week, our army was stationed at the outskirts of Deir-ez-Zor. We eliminated 850 IG members in Deir ez-Zor, the terrorists retreated, and the Syrian army regained control of the city and surrounding areas. Imagine, ladies and gentlemen, what happened next. The US-led international coalition ceased operations in Raqqah, an IG stronghold, and sent the so-called Free Syrian Army to Deir ez-Zor, which our troops had already liberated at that time
Jaafari told a UN Security Council meeting.
According to him, "Americans are competing with the Syrian army for the liberation of Deir-ez-Zor, instead of fighting with the IG in Rakkah."
He also noted that the pictures received from Russia from the air "expose how American forces and IS formations hand over each other's positions without a fight."
Recall, on Wednesday, Russia's ambassador Vasily Nebenzya at a UN Security Council meeting focused on attempts to prevent the "prosecution and defeat of the militants" outside Deir ez-Zor. According to him, this "is contrary to the officially declared goal of complete destruction of the igil contagion on the Syrian land."