Lithuanian Defense Minister Raimundas Karoblis accused Russia of working out options for attacking the Baltic countries during the last week of the Belarusian-Russian tactical exercises "West-2017".
It is important that during the exercise "Zapad" a simulation of the Russian attack on all Baltic countries was carried out.
- said Carblis at the conference.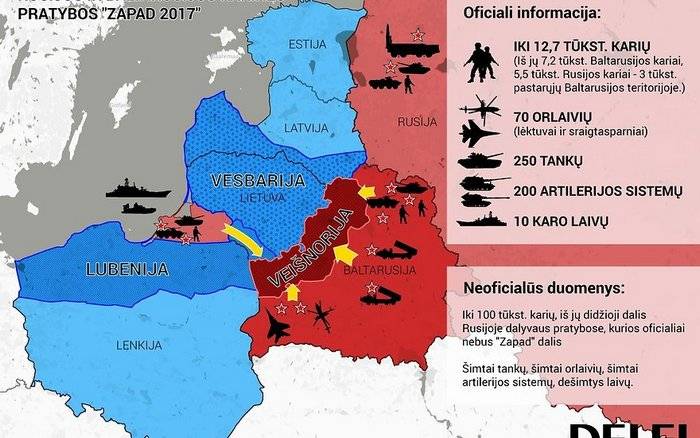 He noted that the exercises were practiced
Conventional actions against high-tech states, specifically NATO, "stressing that the maneuvers do not correspond to the information that they are aimed at anti-terrorist operations, since they" involved all elements of the Russian armed forces, including space forces
Under the country of high technological level, Mr. Caroblis, of course, had Lithuania?
Carblis also said that the security situation in Lithuania after the exercises "West" remains in its former state, is not improving.
Russian armed forces are becoming stronger ... Undoubtedly, Russia remains a challenge for NATO
- he said. The Minister drew attention to the fact that, in response to the challenges, NATO should strengthen the defense component of Lithuania, modernizing the army.
Remigijus Baltrenas, Director of the Second Department of Operational Services at the Lithuanian Ministry of Defense, noted that according to military intelligence, the number of participants in the maneuvers was higher than was officially announced, but according to tradition, the United States and NATO could not provide any evidence.
Specifically, at the moment I can not provide figures and can not comment, is the initial assessment. But the concentrated forces were several times higher than those officially declared by the Russian Federation.
- said Baltrenas.
In their conclusions, representatives of the Ministry of Defense and the Lithuanian army noted that "the exercises did not turn into major provocations, except for minor incidents," reports
RIA News
.