More than 93 percent of referendum participants in Iraqi Kurdistan supported the idea of ​​independence of the region, according to the counting data of 282 thousand votes (about nine percent of those who voted). About it
RIA News
told the Supreme Independent Commission on the referendum and elections in Kurdistan.
About 3,3 million people participated in the referendum, turnout was 72,16 percent.
Against independence voted 6,71 percent of voters. The chairman of the commission noted that the results may vary, as the counting continues. Official results will be announced on Thursday.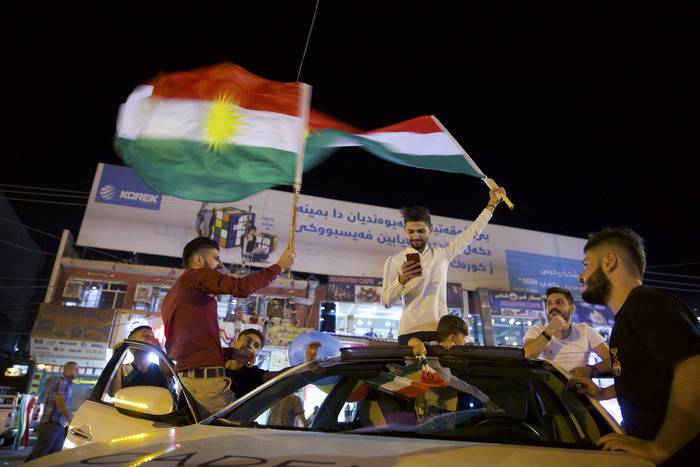 5,2 million voters had the right to vote in elections. All citizens of Iraq registered in Iraqi Kurdistan or in Kurdish regions could vote. 6846 polling stations and 1737 commissions worked. Not only the provinces of Erbil, Sulaymaniyah and Dohuk, which are officially part of the Kurdish autonomy, but also the areas beyond its borders - in particular, in the provinces of Kirkuk, Nainava, Salah al-Din participated in the voting. Online voting was organized for Kurds living outside Iraq.
Official Baghdad, neighbors of Iraqi Kurdistan, as well as the United States and the United Nations spoke against the referendum. Turkey and Iran began exercises on the border with the region, and Iran closed its sky for air traffic. The Iraqi parliament voted to dismiss all Kurdish officials participating in the referendum, demanded that control of the border of Kurdistan and neighboring countries be transferred to Baghdad, as well as conduct all negotiations and oil deals only with the Iraqi government.
Iraqi Kurdistan is the unofficial name of the Kurdish Autonomous Region in the north and north-east of Iraq, which has the status of broad autonomy within the country, legally enshrined in the constitution. The provinces of Dahuk, Sulaimaniya and Erbil in this region have traditionally been the residence of the Kurds. The Kurdistan Democratic Party, headed by Massoud Barzani, is in power in the region.