The main military investigative department of the TFR is investigating a criminal case against the head of the technical support department of the food department of the Defense Ministry, Colonel Alexander Vakulin, who is accused of receiving a bribe in the amount of 368 million rubles, reports
Kommersant
.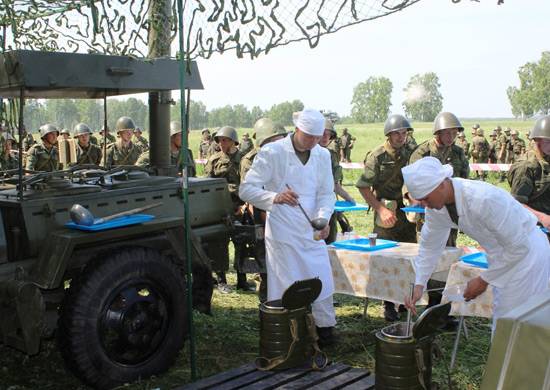 Vakulinu is charged with especially large-scale fraud (part 4. Art. 159 of the Criminal Code of the Russian Federation) and receiving a bribe on a large scale (part of 6 Art. 290 of the Criminal Code of the Russian Federation). He is arrested and will be in jail until October 29.
Meanwhile, according to a newspaper source, the operation, which the police and the main investigative department of the TFR in St. Petersburg conducted in the spring of this year, formed the basis for the investigation of the high-profile criminal case.
"Then there was evidence of multi-million embezzlements that were committed under contract No. 99 / EA / 2015 / DGZ / 3, concluded between the Ministry of Defense and St. Petersburg Profbusiness LLC in the winter of 2015. It was about supplying to the end of the year for the needs of the military department several dozen car tanks, trailer kitchens, mobile bakeries and other "food" special equipment for a total of almost 685 million rubles, "the article says.
The publication notes that "this contract and 11 contacts for a total amount of 2,2 billion rubles., Concluded by the Ministry of Defense with various companies, were the subject of litigation by the St. Petersburg administration of FAS, which discovered" cartel collusion. "
Contract No. 99 / EA / 2015 / DGZ / 3 has been the subject of a criminal investigation. As established by law enforcement officers, during its execution, "about 20 million rubles were stolen. by supplying machines of inadequate quality. " In the summer of this year, the investigation was transferred from St. Petersburg to Moscow to the Main Armed Forces Office of the TFR, where a criminal case was initiated against Vakulin on bribery.
Investigators accuse him of obtaining 368 million rubles. both for helping to enter into lucrative contracts, and for providing "general patronage" to the merchants who paid him.
According to the newspaper, before his arrest, Colonel Vakulin was considered a promising officer, making a very successful career. According to some reports, he recently transferred to Moscow, and before that he served in the town of Baltiysk, Kaliningrad Region. More than once he traveled around the country with various inspections and even lectures on the logistics of the troops.