According to the Sri Lankan web resource
"Sri Lanka Guardian"
, the Sri Lankan government is in talks with Rosoboronexport JSC on the acquisition of the remaining six former Indian Su-30K fighter jets stored at JSC 558th
aviation
repair plant "in Baranovichi (Belarus), as well as a number of other Russian weapons against Russian loans.
According to the resource, the Sri Lankan Air Force wants to acquire six former Indian Su-30K fighters remaining on the Belarusian 558 ARZ in Baranavichy after other 12 Su-30K fighters were purchased by Angola under the 2013 contract of the year (the first two were recently delivered to Angola after repair on 558-m ARZ).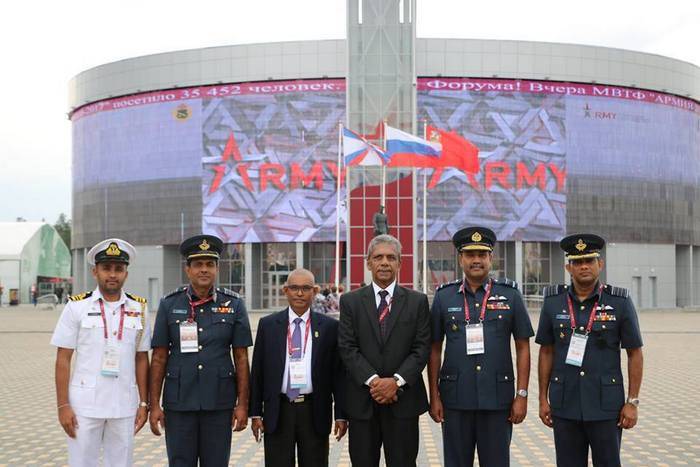 The official delegation of Sri Lanka at the 3-th International Military-Technical Forum "Army-2017" in Kubinka
Negotiations on the acquisition of the remaining six Su-30K fighters were held at 558-m ARZ in Baranavichy from 2 to 4 in November 2016 of the year, with the participation of high-ranking officers of Sri Lanka Air Force and Lanka Logistics and Technologies Limited and Czechosological Export Ltd. and on the other hand, representatives of Rosoboronexport JSC, Irkut Corporation PJSC and 558 Aviation Repair Plant OJSC. A joint protocol was signed based on the results of the negotiations.
The purchase of these six Su-30K fighters is part of the proposed procurement package of Sri Lanka from Rosoboronexport JSC for the armament of two Moscow-provided credit lines from Sri Lanka.
According to the resource, out of approximately 700 million of the total amount of loans allocated by the Russian side, 146 million should go to pay the contract concluded in 2013 for the purchase by Sri Lanka of 14 Mi-171 helicopters (including two in the VVIP configuration) . The remaining approximately 546 million dollars the Sri Lankan side intends to spend on financing three more purchases from Rosoboronexport JSC - the six Su-30K fighter aircraft, one patrol ship of the Cheetah 5.1 project, and also the 33 BTR-82A armored troop-carrier to equip the Sri Lankan peacekeeping battalion of the peacekeeping unit. UN in Mali.
Regarding the purchase of Su-30K fighters, the resource reports that initially the Sri Lankan Air Force leadership was considering acquiring a batch of JF-17 Chinese-Pakistani single-engine light fighters, but after a negative reaction from India, the Sri Lankan government refused to purchase them. Then Rosoboronexport offered Sri Lanka to buy Yak-130 airplanes as light combat vehicles, but the Sri Lankan Ministry of Defense showed interest in buying six unsold former Indian fighters Su-30K in Baranavichy, the blog
bmpd
.