The Anatolian Agency of Turkey has published in the Infographics section information on the capabilities of the Russian C-400 system to hit air targets using the example of US and NATO military aircraft.
The agency posted a link to the relevant material on its page on Thursday in
Twitter
.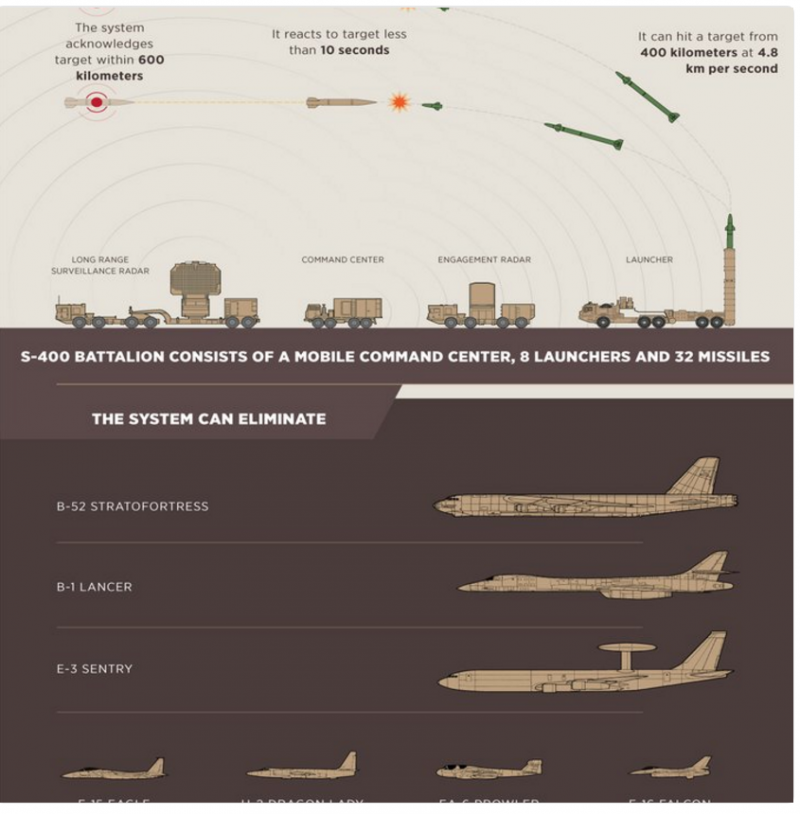 First of all, the agency indicates that the systems are capable of targeting a potential enemy at a distance of 600 km, and hitting a target at a distance of 400 km. At the same time, the rocket is capable of developing speed in 4,8 km / s. The agency also lists aircraft and missiles that C-400 can destroy. These include the strategic bombers B-52 Stratofortress and B-1 Lancer, the E-3 Sentry long-range radar detection aircraft, the F-15 Eagle, F-16 Fighting Falcon, F-22 Raptor fighters, and Tomahaw type cruise missiles, Tomahaw-type cruise missiles, and the Tomahaw type cruise missiles, and the Tomahaw fighter planes, and the cruise missiles, and the manners, and the Tomahaw fighter planes, and the Tomahaw combat aircraft. rockets.
Meanwhile, in social networks, users began to criticize the Anatolian Agency and accuse it of advertising the Russian system.
News
agency hints that Turkey acquires S-400 in order to bring down NATO planes
- says one of the commentators of the publication.
Turkish state agency Anadolu boasts of buying S-400 from Russia, showing the effectiveness of systems against the military
aviation
NATO and the USA
- Turkish journalist Abdullah Bozkurt writes on Twitter.
On September 12, Turkish President Tayyip Erdogan announced that Ankara signed an agreement with Moscow on the acquisition of C-400 systems, and the deposit has already been made. Vladimir Kozhin, an assistant to the President of the Russian Federation on military-technical cooperation, confirmed in an interview with TASS that Russia and Turkey had signed a contract, and he was preparing for execution.