The President of Ukraine announces his meeting with the President of the United States Donald Trump. This time, instead of the previous 6 minutes, the meeting should last about an hour. At least, as reported by representatives of the Ukrainian delegation, who is on a visit to New York.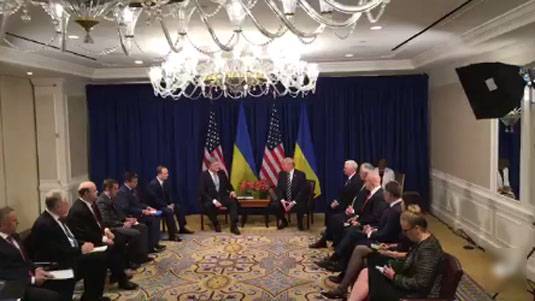 Poroshenko enthusiastically scribbling post in
Facebook
:
I am pleased to meet with the President of the United States of America Donald Trump. We noted that the United States and Ukraine have strengthened economic and security cooperation since our last meeting.
Trump as reported
RIA News
, made a statement that "things in Ukraine are getting better, but Ukraine itself is not the easiest place to live."
The US President noted that "a lot of positive things have happened in the US-Ukrainian relations since the last meeting held at the White House." Perhaps, Trump attributes, for example, the acquisition by Ukraine of American coal, after unloading which the bulk carrier under the Hong Kong flag, for some reason decided to load the port of Novorossiysk.
The Ukrainian delegation notes that during the conversation between Trump and Poroshenko they touched upon the possibility of entering the UN peacekeepers in the Donbass.