A few days ago, in Kiev, demonstrated stormy joy over the arrival of a cargo ship with American coal on board. We are talking about the bulk carrier "Ocean Ambitious", which, as reported in official reports, delivered coal to Ukraine from the American port of Baltimore. It was also stated that coal was purchased for PJSC "Centrenergo" from the company XCoal at a price of 113 dollars per ton including delivery.
Today, thanks to the monitoring activities of the portal
www.marinetraffic.com
It became known that after unloading in the Ukrainian port of Yuzhny (approximately 30 km from Odessa), the bulk carrier flying the flag of Hong Kong did not go back to the USA, to Novorossiysk. In the port of the hero city of Novorossiysk, "Ocean Ambitious" appeared around 8: 30 (Moscow time).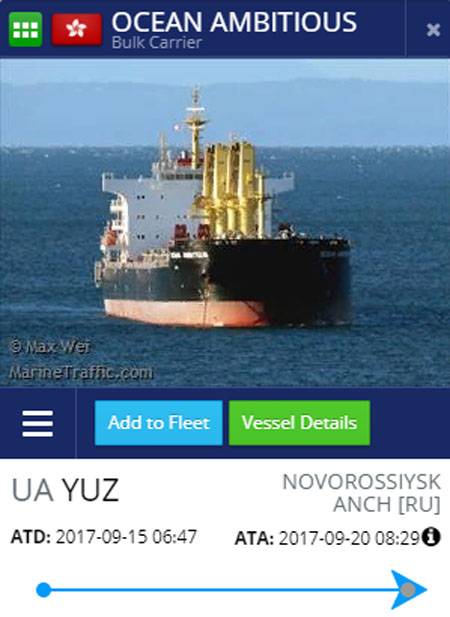 At the moment, the bulk carrier is on Novorossiysk raid. The question arises: for what purpose did the "American" ship, which delivered coal from Baltimore to Ukraine under the Hong Kong flag, decided to go into the Russian port by empty ships? Is it not then that the American company, having bought coal in the Russian Federation, designed it later as an American one and again tried to sell it to Kiev?
This version does not look incredible given the fact that some time ago, Australian companies have already delivered coal to Ukraine, which they previously bought from the coal miners of Chukotka.
And Poroshenko will be very happy if he finds out that in the package given to him is coal from Chukotka or from Donbass at all ...