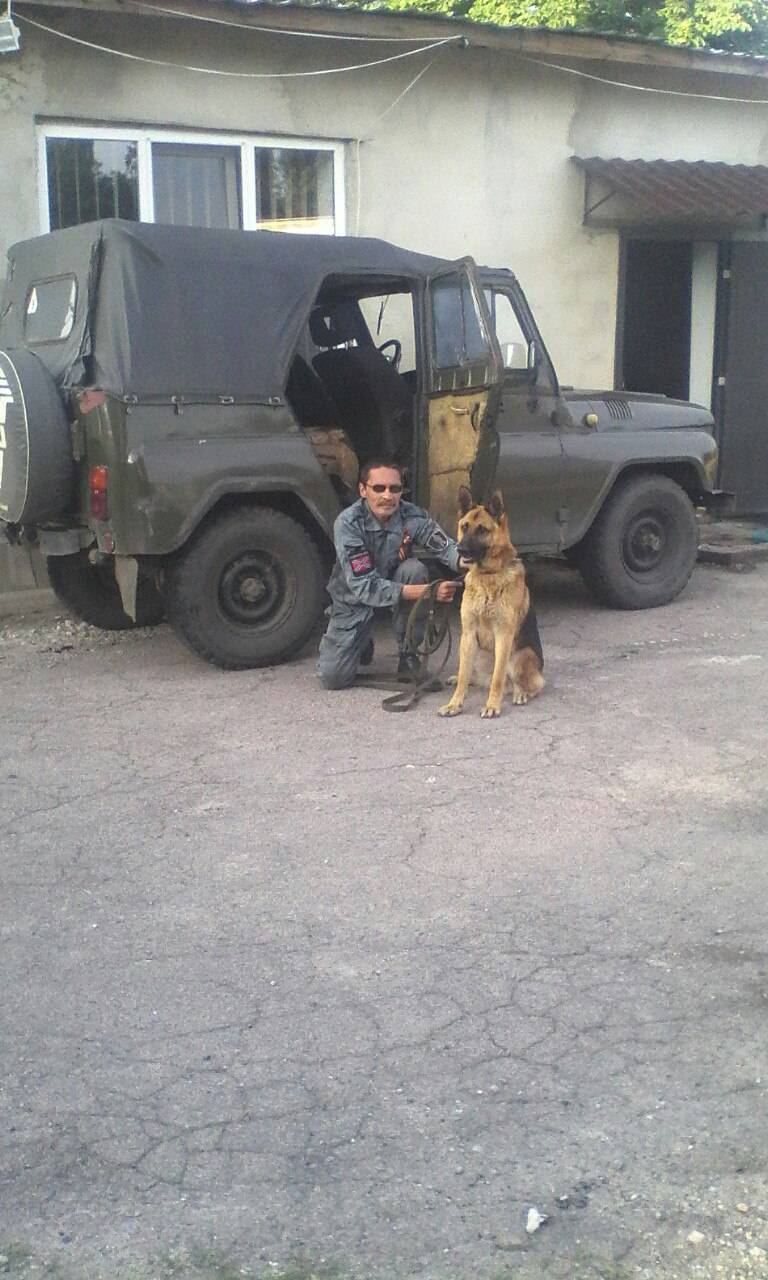 The conversation, which was recorded by Dmitry Karpov from St. Petersburg with his countryman Mikhail, who spent a long time as a cynologist in the Donbas, is quite remarkable by the fact that it includes very interesting moments. And, unfortunately, we wrote about some.
Michael from St. Petersburg, callsign "Advisor".
- I grew up in a military family. And almost from the cradle dreamed of enrolling in a naval school. But in 16 years, it turned out that with my vision I was not so much in the military school, in the Soviet Army I did not get.
But I was lucky, and the same sad year I got to the dog trainer courses at DOSAAF. Who knows, dog lover is a disease that cannot be cured, and since then I have been working with service dogs.
And when the processes started in Novorossia, I went to 2015 with my dog, trained to search for the dead.
That year was easier. Then there was still the militia, and only after seeing the dog, I was taken straight from the roadblock, despite my glasses. So, before reaching Donetsk, I already joined the army.
In 2016, it was already more difficult. I was homeless at the bus station for 10 days, because this time the military registration and enlistment office declared to me that they now also had an army, and I was no match for my sight and age.
Yes, I had to suffer, to pull local deputies and heads of the Emergency Ministry, the police. But alas, there were restrictions everywhere.
I had to pull Moscow. Moscow rynula, and asked a very simple thing: guys, do you have dog handlers with experience in 35 for years, take a turn at the military commissariats with 6 in the morning? If not, then take a peasant under any pretext.
- Tell me, who from Moscow took part in this business?
I went directly to the head of the Russian National Unity (RNU), Alexander Petrovich Barkashov.
After such a turn, I instantly passed a medical examination and was found fit for military service. But since in the staff of the battalion and regiment the word "dog handler" is not present in principle, they put me in a very tricky position "driver of the Urals".
"Can you tell me where you served?"
- In 2016-17, I served in a separate assault regiment of marines. Mariupol-Khingansky regiment. This is Novoazovsky district, the very south of Novorossia. We were based in 12-15 km from Novoazovsk, almost on the seashore. In fact, they were both a combat unit and a border guard.
- What did you do as a dog handler?
- The first thing that turned out, training dogs searching for mines there was not particularly required. Ensuring the protection of the station of permanent deployment, warehouses, territories, since it is now the most vulnerable.
Demining should begin only after the cessation of hostilities. And there are ten years of work.
For comparison: under St. Petersburg, specifically, near Vyborg, where the Finnish campaign took place, people are still successfully undermined by what has been established since 1939. And around Donetsk are not the oldest mines. And they can stand a hundred years.
And only dogs can find these mines. No mine detector can find the plastic case of a modern mine.
- And what about the nutrition of dogs?
- Too problems. Since there is no dog trainer in the staff list, there are no dogs. Everything had to be pulled out on its own initiative, persuading the commanders, persuading the rear men and everything else.
Unfortunately, I came to the conclusion that in the DPR it is easier to create a structure on the basis of a public organization that will prepare for the army, the police, the Emergencies Ministry, the frontier services of service dogs, without entering into the structures of these units.
Today, dogs are required everywhere, ranging from roadblocks through which thousands of people dangle daily. Here you have both drugs and
weapon
and explosives.
This is not even about hundreds. It is about a thousand dogs per republic. Plus, each dog must have (in a good way) two trained and trained conductors.
- Drugs ... Is this a two-way channel or ...?
- By itself, the idea that the DPR will produce something and throw it at Ukraine is rather absurd. It is rather a transit channel for transfer to Russia, produced outside of even Ukraine.
- What can you say about the combat use of dogs?
- In the DPR, dogs are used exclusively in the line of guarding and guard duty. To prepare a serious dog for mine search, conditions are needed: a training ground, trained instructors, counselors, and, most importantly, very strict selection is needed to prepare a dog for mine search.
From 9 Sheepdogs from 10 are suitable for guard duty. And to search for mines - one, God forbid, from 20. There is a completely different psychology, character. Nervous and angry dog ​​for a mine to work simply has no right.
- Question: for full-fledged work on mines, sappers are also needed? What qualifications do they have there?
In each serious division there is a sapper company. And preparation takes place to be. But the biggest problem is mines in plastic shells. They are not the newest ones, they have remained since Soviet times. But given that there are very few metal parts in their construction, and there is a lot of metal in the ground, the metal detector usually does not take it sideways.
A matchbox the size of a matchbox lying in the ground will lead the searcher to the side. And in the summer, considering the weather in Donetsk, up to + 50 in the sun, the dog can smell mine for 5-7 meters. Even in hard as a rock, ground.
Therefore, whatever the training of sappers may be, the issue of training mine-searching dogs is a priority for 5 years, if not 10.
Since the training of mine dogs is a long and serious process, few service dogs are used in guard and guard activities. For all the time I did not manage to detain anyone, because the very presence of a dog on the object or as part of a guard group moving around the object is a kind of stop-signal and can even scare away a very well-prepared DRG.
- Did you find foreign-made weapons?
- It was not only necessary to find it, it was even under attack from it. Specifically - Polish mines for mortar. It differs from ours in that it flies almost soundlessly. When an old mine flies, and what's with us, that the Ukrainians have the same mortars, the 1938-39 model, you can hear it from afar, and you can do something, take shelter, just fall. The Polish mine flies silently, and all that can be heard is an explosion. Very unpleasant business, I will report to you.
Foreign mines were not found. Ukrainians have enough reserves left over from the USSR.
- How is the work with dogs?
- To tell everything is quite useless, there are many specifics. I can give a case here at the level of a joke. In one canine center (it is clear that in Russia), waiting for the arrival of the main dog service. The lump came, they began to show him everything that they were rich with.
Working off the track in two directions, from where he came, where he went, the pursuit for several kilometers, the detention with shooting and other special effects. The distinguished guest sits, frankly misses, and then asks the head of the nursery: "Yes, I have already seen it all. Tell me, do you have smart dogs? Paw able to give? "
This is what I? Besides the fact that today in the DPR nobody is engaged in service dogs. In Donetsk, the Ministry of Emergency Situations to date, two service dogs, and, I would say - one and a half. One quality, the second on the basis of the student works. For a front-line city, this is nothing, there are really hundreds of dogs needed.
Meanwhile, in Ukraine before 2013, there was a very serious dog service. One of the best in the CIS. And today in their trenches there is a fairly large number of not only service dogs, but also indoor and decorative dogs, working purely as an alarm for the creeping of our intelligence officers.
It would be useful today to do this on our side. But again, guys can only do this as a matter of personal initiative.
There is no centralized training of dogs, canine and dog breeders in the republic.
In 2015, I got to the Donetsk Cynological Center. It was a very unpleasant case. An outright gang allegedly flying the flag of the Vostok brigade captured half of the police nursery. I planted a huge number of dogs gathered around Donetsk in outwardly similar to German Shepherd dogs and began tearfully begging for humanitarian aid from Russia on the Internet.
Help went. Trucks literally. Everything received was displayed in bags and boxes in front of the aviary, filmed, and reports were sent to the Internet.
He commanded this now private, serving in the internal troops with the callsign "Bars". He thanked everyone, and then everything received went shopping.
Not a single dog there was even taught the team to "sit!", Not that anything else. Once again, all this confirms that everything must be done by yourself. From fraudsters no one is insured.
Required comment.
Donetsk cynological center was a very high level institution. Its owner, Lieutenant Colonel Vladimir Kolganov, was a recognized expert in European cynology. He had the qualifications of an international judge and was often enlisted by canine centers of the CIS and Europe as a consultant.
In that year, we wrote 2015 three times on the topic of the DCC, trying to influence the situation around the center, but unsuccessfully. Brigade "East", I will correct Michael, here was absolutely not in the business. Captured nursery "General DNR", someone Grigory Belyaev. The personality is very remarkable by the complete absence of a biography, except for graduating from high school, but it is known for its drunkenness, friendship with Zakharchenko and deputy status in the Narcoviet Council of the DPR.
It was under the command of a drunken Belyaev that Vladimir Kolganov and his family were beaten up and expelled from the DPR.
The disgraced former commander of the former "Vostok", Alexander Khodakovsky, on the contrary, actively defended Kolganov. Than, perhaps, only aggravated the situation.
The result is this: Kolganov is engaged in his favorite work on the territory of Russia, of course, in the status of a citizen of this country.
Everything told by Mikhail does not cause optimism in the future. If, of course, this future will be. Because in the case of moving forward, mines will have to face. Who and how it will do today is even difficult to guess. Probably, as always, Russia will help ...