According to the Internet portal
TSAMTO
, at the shipyard in Pascagoula (Mississippi), owned by Huntington Ingalls Industries, 16, September, was held the baptism ceremony of the Tripoli UDC LHA-7, built for the needs of the US Navy.
Lead ship of the series,
LHA-6 America
(America), was transferred to the U.S. Navy on April 11, 2014 and officially entered the combat
fleet
October 11, 2014. Construction of the LHA-7 Tripoli began in July 2013. The keel laying ceremony was held on June 20, 2014. The ship was launched on May 1, 2017. Its transfer to the U.S. Navy is expected in fiscal 2018.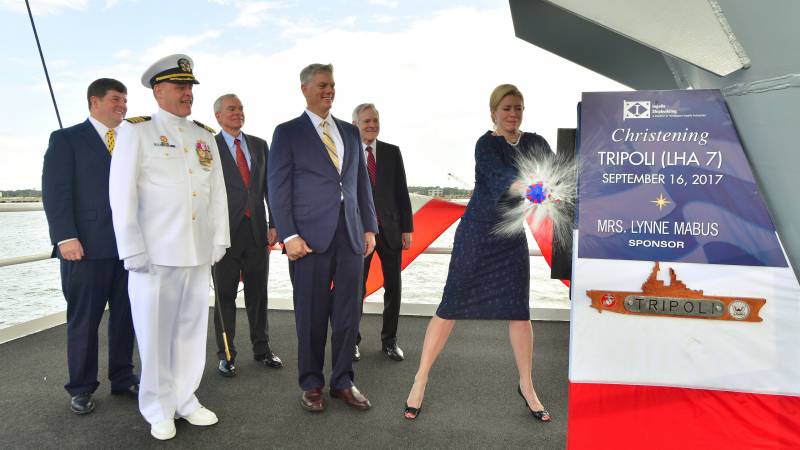 Baptism Ceremony LHA-7 Tripoli (c) Huntington Ingalls Industries
It is planned that the new ship will have an increased hangar deck, infrastructure for maintenance of aircraft, warehouses for spare parts and auxiliary equipment, as well as a larger supply of aviation fuel.
Tripoli UDC will be 844 feet, maximum width - 106 feet, displacement - 44971 tons. The LHA-7 will be equipped with a fuel-efficient power plant consisting of two LM2500 + gas turbines with 35290 power hp each, and two auxiliary running electric motors with 5000 power hp Estimated speed - more than 20 nodes. The crew of the ship will be 1204 person (including 102 officer). In addition, the board will be able to accommodate up to 1870 paratroopers. UDC will also carry onboard fuel and spare parts for the air group. It is planned to deploy MV-22 Osprey's tiltrotor and Lightning-35 F-2B aircraft onboard the ship. The new UDCs are designed to replace outdated LHA-1 "Tarawa" class ships.
In accordance with the June 2017 contract worth $ 3,013 billion, at the end of 2018, the next ship of the series, the Bougainville (XHAUM) Series (LHA (R)) Flight 8 series, will be launched at the end of 1.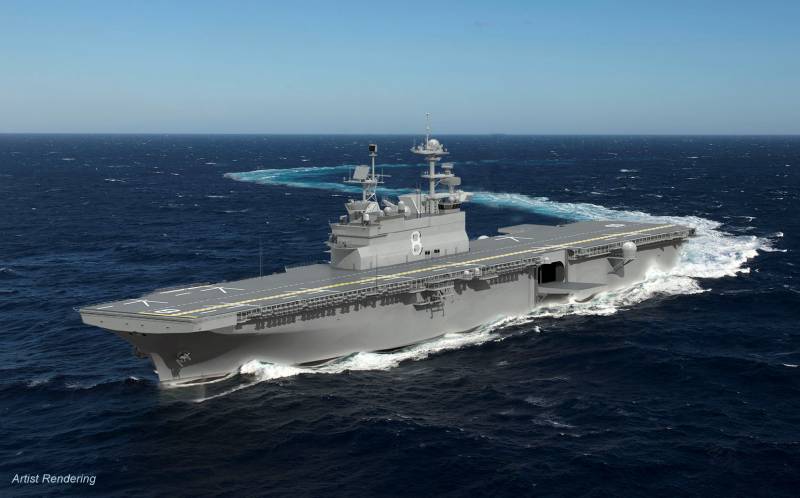 Sketch LHA-8 Bougainville (c) Huntington Ingalls Industries
Ingalls is the only American company capable of building amphibious assault ships. The company transferred the first amphibious assault carrier LPH-10 "Tripoli" to the US Navy in 1966. Since that time, the 5 UDC of the Tarawa class (LHA-1), the 8 UDC of the UOS class (LHD-1), the head UDC of the America class (LHA-6) were built.