As the
RIA News
, at the moment, projects of both light and heavy machines are being developed by industry design bureaus.
Ekranoplans occupy a niche between ships and aircraft. The "screen effect" consists in creating an "air cushion" between the body / wings of the machine and the surface of the water by means of an incoming flow. Rising above the sea, ice field, snow or steppe, the device acquires stability and the ability to move with minimal fuel consumption.
Efficiency and payload gives ekranoplans an advantage over airplanes and helicopters, and their speed favorably distinguishes them from hydrofoil vessels. Sliding over the surface makes the machine invisible to radar and inaccessible for exposure to min.
The Nizhny Novgorod Central Design Bureau named after Alekseev acts as the main developer of the ekranoplanes. The heavy oceanic vehicle A-050-742d "Chaika-2" is included in the line of machines created by it. Its top speed is 450 km per hour, flight distance is up to 5000 km, take-off weight is 54 t, payload is 9 tons or 100 passengers. In the role of starting engines, it is likely that the P-195 will be used (as on the Su-25 attack aircraft), and the marching engines - TV-7-117 (as on the IL-114). It is assumed that the first flight of the "Seagull-2" will make to the 2022 year. At present, the draft design has been successfully completed and work is underway on a technical look.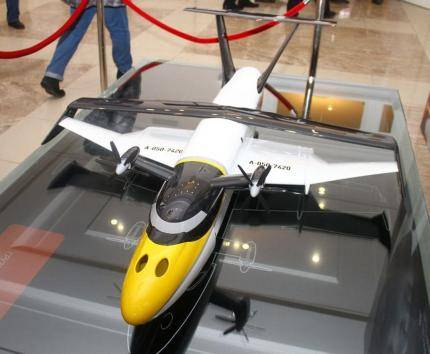 "Seagull-2"
It is planned to equip the car with domestic avionics and modern navigation and aerobatic complex. An independent access to the unequipped coast with a slope of 5 degrees, the possibility of basing on water and airfields is allowed. As part of the Navy machine will be in demand when patrolling the near coastal zone.
The design bureau also carries out the development of an even heavier vehicle - the A-080 "Seagull-3" multi-purpose transport vehicle with a take-off weight of 100 tons.
The interest of the military to ekranoplans is confirmed by the words of the head of the shipbuilding department of the Russian Navy, Vladimir Tryapichnikov, about the planned inclusion of the development of ekranoplans into the shipbuilding program up to the 2050 year.