The Ministry of Internal Affairs of the LNR reports that a caches of
weapons
and explosives. According to the Ministry of Internal Affairs, numerous ammunition, mines, trotyl checkers, machine guns, etc. belong to the Ukrainian sabotage group, which was going to use the contents of the caches for sabotage and terrorist attacks in the territory of the Luhansk People's Republic.
The press service of the Ministry of State Security of the LPR reports that a caches with weapons of Ukrainian security officials were found in the vicinity of the town of Krasny Luch. In addition to the above-mentioned means, an automatic grenade launcher, large-caliber machine gun, hand grenades of various modifications, "zinc" with cartridges were found in the cache.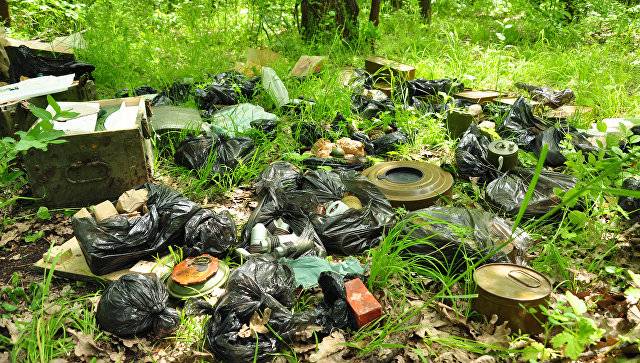 On the eve, as already
reported "Military Review"
, in Lugansk there was a terrorist act. In the central part of the city (near the Ukrainian Academic Music and Drama Theater on Oboronnaya Street) an explosion thundered, which led to the fire of the airborne assault vehicle, installed as a monument in honor of the anniversary of the Airborne Forces.
The Interior Ministry believes that the explosion could have been carried out by a person who used an explosive device from a caches, similar to those found in the Red Ray region.