The authorities showed signs of respect for the last Russian Tsar Nicholas II, solemnly buried him and his family, claiming in one form or another, or indicating that they consider their execution a crime, and the Bolsheviks guilty of this crime.
Why is she now surprised when there are people who are ready to take active steps to defend the name, and - as they consider - the honor of the ousted and shot ruler ...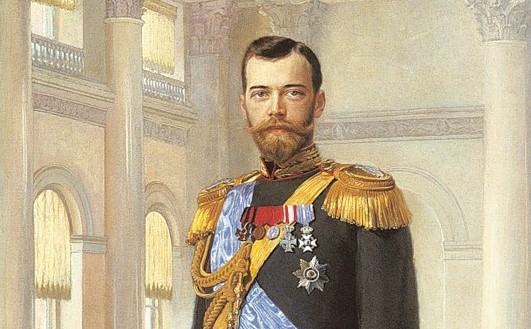 If we assume that Nikolai Romanov is a saint, the devotees of this saint are his admirers, in order to honor and protect him.
Make a film about the "adultery of Mahomet" - do you need to doubt the possible consequences? It was the Communists who were so peaceful and herbivorous that they didn't respond to libelous about their idols at the end of 80's ... and why they were banned in 1991 year.
Whether Nikolay Romanov is worthy or not worthy of the worship and protection of his name and honor is irrelevant. But if the state demonstrated for a quarter of a century that it was worthy - what makes it indignant today ...
Actually, the attitude towards Nicholas is different. In 2013, the Levada Center conducted a survey on this topic - the results were not very relevant to how the official authorities and the official church treat it - and later no such studies were conducted. But 2013 year is not so long ago.
23% of citizens considered him to be an innocent victim of the "Bolshevik terror". A bad ruler, although he has redeemed everything by his death - 25%. A deserter who threw the country in a difficult moment, guilty of everything that happened later - 18%. The culprit of bringing Russia to poverty, to disaster, overthrown by the insurgent people - 12%.
That is, for 23%, it is an innocent victim. For 55,% is a criminal who deserves to be executed.
There is a minority that considers him holy. There is a majority that considers him a criminal. But in this case, it does not even matter who there is more: together, in any case, they constitute the vast majority of the country.
For those who consider him a saint, a film about the "sins of the saint", which includes bed scenes with this saint, is unacceptable. For those who consider him a Criminal, a film about the "romantic, uplifting love" of this Criminal is unacceptable.
It is unlikely that society will understand the film about the sexually romantic hobbies of Hitler or Chikotilo.
To shoot in these conditions any film about a person causing such an attitude is already a problem, because such a film deliberately provokes tensions and divisions in society.
The government itself created the "Holy" from a character who has never enjoyed special respect, even among fans of the monarchy. And now she can not cope with the summoned ghost
He is a criminal or a saint (to be honest, both of these names are noticeably at variance with the scale of Nikolai's personality) - he is certainly a tragic character. It was a crime to shoot him, or he was a well-deserved punishment and a verdict carried out by the people - in any case, it was a tragedy.
Demonstrating the bed scenes of a tragedy character is already a bad taste. The problem is that bad taste has become the essential tool of a certain type of "cultural figures." It is clear that the main task of the artist - to achieve an emotional reaction and co-feelings to his work.
It is also clear that when there is talent, co-feeling is achieved by talent, and not by shocking. When there is not enough talent for this, the only tool left to cause any reaction, except for boredom, is shocking and provocation.
And one of their main elements is an insult. This is the most reliable. The person who wants to acquire or confirm the reputation of the "artist" knows that in order to be recognized one must be made to talk about himself and to cause as much fierce disputes as possible around his "life product". And he provokes and insults, because he understands - then they will not keep silent. And then some will curse, others to protect, and he himself will become a symbol - for some exaltation, for others - curses.
In this respect, both Teacher and Poklonskaya are similar: both authors are shocking. One insulted the memory of those who fell into the Great Patriotic War, carrying out a portrait of 9 on May, a portrait of the emperor who had been executed, who had no relation to her and was despised by the soldiers. The other did a mirror, insulting those who, thanks to a quarter-century powerful demonstration of the veneration of Nicholas and the era that had passed with him, accepted this reverence.
The government itself shocked when, having already renounced another epoch - the epoch of the Republic and the Revolution - insulted her memory and the memory of her heroes, honoring one of the images she and the antipodal ones. And she herself was engaged in political provocations in this regard, and she herself was dumbfounded and began to call the police when she saw her generation.
But if a certain part of society has its own "shrines", the duty of the state is to protect these feelings and objects of worship of this part of society. Either she must forbid their worship. If the worship of the same Nicholas is not prohibited, then it must be protected by the state. Though Nicholas, even Lenin, even Stalin.
If certain members of the public take actions that offend a certain part of the society, the state is obliged to protect the latter. If the state does not do this, the offended will defend themselves. And if something is publicly demonstrated that offends them, the offended have the right to demand a ban on such demonstrations. If the authorities do not hear them, they have no choice but to stop such demonstrations by their own actions.
And the law, strictly speaking, has nothing to do with it. Because if the law ceases to cause respect and recognition, it will not be observed one way or another. If the cinema network refused to show the film that caused the protests of a significant part of society, then. they simply demonstrated that they respect the audience and citizens more than the "cultural workers" who insult the latter and the information part of the art class that covers them.
The favorite saying of a well-known part of society, "No one has the right to forbid an artist to display his work," is not exactly proven and is not based on anything real.
First - that is understandable - this work should at least not violate the law. In particular - not to lead to mass unrest and not to initiate strife.
Secondly: from what does it even follow that something special is possible for an artist? For some strange whim of events, it became natural to assume that cultural and art workers are some so special that they should enjoy special rights and veneration, just on the grounds that they are referred to as artists - sometimes by self-designation, and not by created masterpieces. . But at the same time, they have the right to judge and insult.
With the same success of such a right - often with great reason - even doctors, teachers, engineers, scientists, could demand it. By the way, if workers and peasants once again recall such a special right, many others may long be tempted to talk about their special rights.
Certainly, "Nicolae-worshiping" is an extravagant thing for an adequate person. And close to the Black Hundreds. But for that matter, an active protest against the delights of the creators of the outrageous artistic environment - even against the outrageous "Matilda", even against the outrageous Zvyagintsev, even against the outrageous Raikin or Serebryannikov - is not found an adequate form and expressed ugly, but a natural and inevitable reaction society to the constant offensive-provocative epatage of a significant part of the "public class" of the country. So public that this term reminds of a completely different meaning.
And the fact that certain retrograde forms, the authorities, when she insulted post-revolutionary Russia and her memory, had to think about who she would bring to life with her illiterate outrageous.