Today, Russia and India have completed the signing of a full package of documents for the construction of the final (third) stage of the Kudankulam nuclear power plant (southern India). CEO of a state corporation
Rosatom
Alexey Likhachev confirms the fact that Russian specialists will build the 5 and 6 units for the Indian nuclear power plant. Perhaps the most interesting thing is that Russia will provide India with a loan for the construction of the two mentioned units.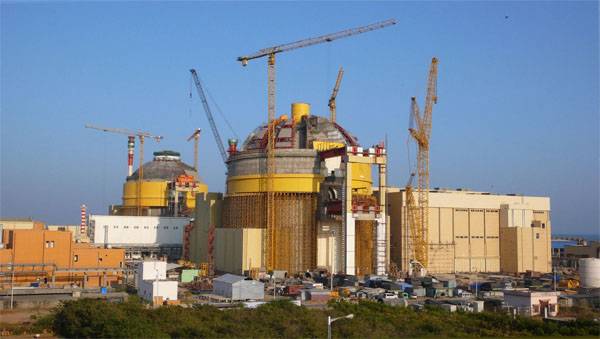 For the first time that Russia and India are signing a framework agreement on the 5-6-th power units of the Kudankulam NPP became known at the St. Petersburg International Economic Forum, held in the northern capital this summer. Now Russian and Indian experts have signed the entire package of necessary documents.
There are questions about why India needed to take a loan from Russia, given that the Indian economy has shown impressive growth in recent years - on average, about 8% per year?
Rosatom reports that it continues to implement projects for the construction of nuclear power plants in other foreign countries. Among them are Turkey, Bulgaria, Hungary, Finland, Iran and Bangladesh. The total portfolio of Rosatom's overseas orders is 133 billion US dollars.