The Russian command in advance designated to the forces of the western coalition the borders of the military operation in Deir ez-Zor, reports
RIA News
statement by the representative of the Ministry of Defense of the Russian Federation, Major-General Igor Konashenkov.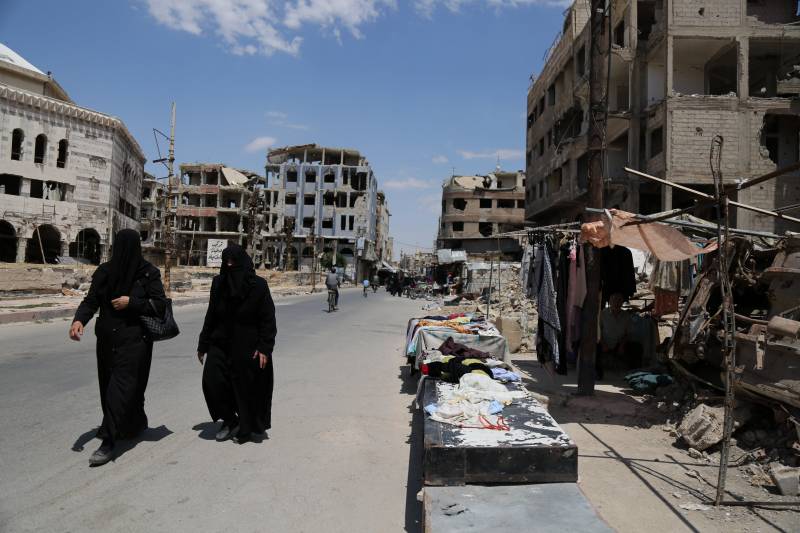 With the support of the Russian Aerospace Forces of Russia, the Syrian government forces have been successfully fighting for the destruction of the last ISIL bridgehead (IG, a grouping banned in the Russian Federation) in the Deir ez-Zor area. In order to avoid unnecessary escalation, the command of the Russian group of troops in Syria, through the existing communication channel, in advance brought to the American partners the frontiers of the military operation in Deir ez-Zor,
said the representative of the Ministry of Defense of the Russian Federation.
According to him, "in the framework of this operation, the manpower, armored vehicles and objects of terrorists are destroyed both on the west and on the east bank of the Euphrates." Russian VKS "deliver pinpoint strikes only on reconnoitered and confirmed through several channels" targets in areas controlled by terrorists.
First of all, the firing points of the terrorists are destroyed, of which massive fire is being conducted on the Syrian troops. Over the past few days, on the eastern bank of the Euphrates, Russian means of control and reconnaissance have not revealed a single clash of ISIL terrorists with armed representatives of any "third force",
added the general.
Therefore, Konashenkov emphasized how "oppositionists or military advisers of the countries of the international coalition" could "penetrate into the military forces of the IG in the eastern part of Deir-ez-Zor", only the representatives of the international coalition themselves can answer.
We will remind, earlier in the Pentagon stated that several fighters of the US-backed detachments of the "Syrian Democratic Forces" (SDS) suffered during an air strike of the Russian ASC. According to the ministry, "September 16 Russian forces hit a target east of the Euphrates River in Syria near Deir ez-Zor, because of which the forces of the coalition partners suffered."