No, but this statement raises more questions than you think.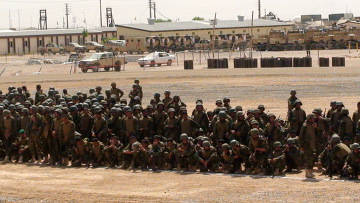 NAUBAD and umakoy. On moonless nights, when bright orange-pink colors of a desert sunset fade and darkness sets in, American helicopters transfer Taliban fighters from Kandahar and Helmand to the strictly classified landing points on the plains of northern Afghanistan.
My stubborn driver from Mazar-i-Sharif Kaka Satar believes in this. This is believed by the shoe-selling owner of the house where I live. This is believed by his daughter's fiancé, a freelance radio journalist. My old friend Makhbubulla from Dasht-i-Kalekh believes this, the head of the independent human rights commission from Kunduz believes, elder Naubad and Umakoy, two agricultural villages located right behind the ancient limestone walls of Balkh, that whiten, towering over the fields of unripe wheat, like the bones of some kind of prehistoric dragon.
Do not rush to laugh at this contrived conspiracy theory, calling it the chatter of unenlightened and uneducated people. Instead, try to take it as a by-product of the grotesque inability of foreign donors and NATO to improve life in this country, despite the billions of dollars and thousands of troops that were sent to Afghanistan since the beginning of the 7 war on October 2001.
Try to think about it as follows. Believing in an unholy secret partnership between the United States and Islamic militants, which America has been unsuccessfully trying to defeat for eight and a half years, is the only plausible explanation for the idea that the Afghans do not consider so incredible - that the Taliban are getting stronger. And that life for most people in this country is not getting better.
Eighty percent of Afghans live today in exactly the same conditions as they lived in 327 BC, when Balkh devastated Alexander of Macedon; and in the 1221 year, when Genghis Khan devastated him again. These are walls of adobe, half caked by weather and age; Hand-planted fields that are plowed with their wooden, hilly plows, bent over in two deaths, peasants in unbleached dressing gowns. Most homes do not have electricity. No clean water. No paved roads. No doctors in the area.
Naubad and Umakoy are just such villages. Local Elder Ajab Khan with a turban on his head and sharp-nosed shoes on his legs, which once had a clasp, and now there is more dirt than leather, requires me to explain one thing to him. Why, despite the presence in Afghanistan of a huge number of very different assistance organizations, despite the most modern technologies that allow American aircraft invisible to float above the ground and with great accuracy hit tiny targets on the ground, despite the cellular relay towers that stretch across the country , are his people still living in the 11 century (if in the 11 century people had limited access to mobile communication)?
"The Taliban imposed tribute on everyone," says Ajab Khan, "but (here he raises his knotted finger to heighten the effect) with them there was order, it was safe. There was no corruption. There was no theft."
I hear the same words from Sayed Karim Talash, who heads the Kunduz branch of the Independent Human Rights Commission of Afghanistan. I ask him what caused the Taliban to return to northern Afghanistan, who in 2001 and 2002 seemed to save the people from their presence and merciless rule.
He answers. "The Taliban had a fair, impartial justice system. People's problems were resolved more quickly. The Taliban helped those in need. They did not allow crimes."
I hear the same thing from Kaki Satara - only the driver remembers more not about the Taliban, but about life under President Najibullah, who was supported by the Soviets.
"The Russians cared for the people," he tells me. We are going to Mazar-i-Sharif from a refugee camp, which is a gathering of dugouts, tents and clay shacks, where about 1000 people live very crowded, returning two years ago from Pakistani exile. From each tent, from each shack, people stretch their hands towards me with bundles of prescriptions that they are not able to fulfill. With the recommendations of doctors, which they are not able to follow. They show me dirty, unwashed babies that they have nothing to wear.
That would never have happened if the Communists were in power, Kaka Satar tells me, shaking his head.
"People were happy," he says.
It does not matter that the Taliban publicly mutilated and executed people for inappropriate behavior, and also officially weaned women from public life.
Or that the Soviet troops destroyed more than a million Afghans, bombed hospitals deliberately, wiped out entire villages from the face of the earth, and also scattered mines, similar to children's toys.
Those people with whom I talk, do not recall this.
"Well, yes, of course, the Taliban did not allow women to go out, but it was calm and safe," Talash said.
"The Soviets punished few people, and only those who deserved it," Kaka Satar echoes.
It occurs to me that these people apparently need such a selective loss of memory, that nostalgia that erases and smoothes the memories of past injustices. In the country where
история
This is a series of wild and cruel events, sponsored by people with ever more perfect
weapons
, and which unfold on the background of adobe scenery that does not change for centuries, such optimistic memories of the past allow us to believe that there was a good life here.
It also gives a chance that someday it will be good again.