According to information
TASS
, Colonel Vadim Astafyev, head of the press service of the Southern Military District, reported on large-scale tactical exercises held by the Russian military base in Abkhazia, during which they worked on the maneuverable defense of the coastline from a naval landing of a conditional enemy.
During combat training in coastal areas up to 5 km at the Gudauta and Nagvalou proving grounds, the motorized infantry units on the BTR-82AM armored personnel carriers using small arms conducted a draw of defensive combat episodes under various options of capture by the enemy coast.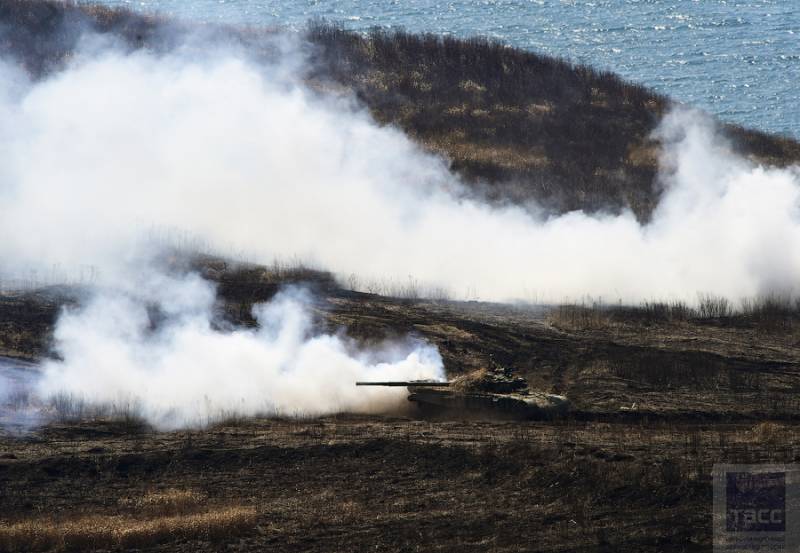 The teachings of the Pacific Fleet at the site "Clerk". 2016 (c) TASS
According to him, the main emphasis was placed on creating fortifications along the coast, masking combat vehicles and inflicting maximum fire damage on the ships of the conventional enemy.
When advancing on a standard vehicle to the place of the rally of hostilities, the servicemen repelled airstrikes of a conventional enemy and overcame the zones of radioactive, chemical and biological contamination.
In total, more than 1 thousand military base personnel and more than 150 units of military and special equipment, including including
Tanks
.
These maneuvers are an integral part of the exercises of the 49 units of the combined arms army, which are led by Colonel-General Alexander Dvornikov, commander of the Southern Military District. They are held in the Stavropol and Krasnodar Territories, Adygea and Abkhazia.