In the area of ​​the "special operation" of the Ukrainian security forces in the Donbass relations between the command of the Armed Forces of Ukraine and the divisions of the national battalions, who are fighting in the east of the country without the official consent of Kiev, have become sharper, said Verkhovna Rada deputy Oksana Korchinskaya.
She noted that the commanders of the Armed Forces of Ukraine received an unofficial order to "crush and drive out" volunteers, reports
Strana.ua
.
Her words were also confirmed by the commander of the volunteer battalion of the Ukrainian Volunteer Army (UDL) with the call sign Cherven, who claims that the volunteer units in the last months were "blocked" at the front line - the Ukrainian Armed Forces do not allow them to fight.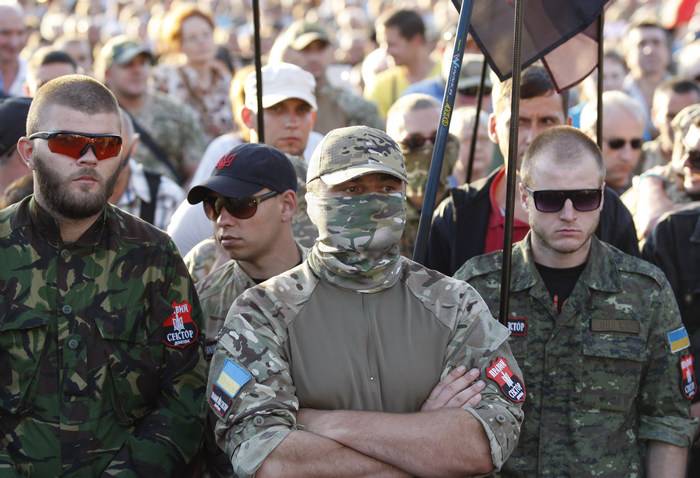 One of the personnel officers of the headquarters of ATO, on condition of anonymity, stated that there are about 1,5 thousand volunteers on the front line, including the Right Sector * detachment, the UDA 5 battalion under the command of Druha Cherny in Marinka - battalion UDA "Aratta", and on the front line several mobile UDA task forces.
At the same time there is no de jure battalions there. Officially they are considered to be volunteers, in case of death they are not included in the lists of losses. At the same time, they "rush into battle and allow themselves completely unpredictable actions on the front lines." As an example, the actions of the 25 UDA unit in February 2017 of the year, which arbitrarily seized the Donetsk pumping station, provoking an exacerbation, are given. Often conducted military raids contrary to the plans of command.
At the same time, as the officers admitted, the headquarters of the "ATO" considered the possibility of an operation to seize the pumping station, but "a scandal began" and "everyone piled on UDA and anarchy."
In UDA argue that the differences with the headquarters of "ATO" - a temporary misunderstanding. At the same time, some of the representatives of volunteers note that "the high command division of volunteers on the front line is a bone in the throat and a source of unpredictable actions."
We have all these Minsk agreements to one place, we are going to the "ATO" to fight, and not to sit stupidly in the trenches and wait for the weather by the sea. Therefore, we are not loved at headquarters and frankly afraid
- Said one of the fighters of the 5-th battalion UDD.
Right Sector * - extremist organization banned in Russia