According to the online edition
Look
, Referring to the USA Today newspaper, Hillary Clinton, who lost the victory in the presidential election to Donald Trump, said that Vladimir Putin had personal hostility towards her caused by the expansion of NATO in Eastern Europe during the presidency of Bill Clinton.
I have no doubt that Putin wanted me to lose and Trump won [...] I have no doubt that Trump's campaign headquarters and other assistants worked very hard to hide their ties with the Russians. Although I have never imagined that he had the courage to undertake a major hidden attack against our democracy, right under our nose.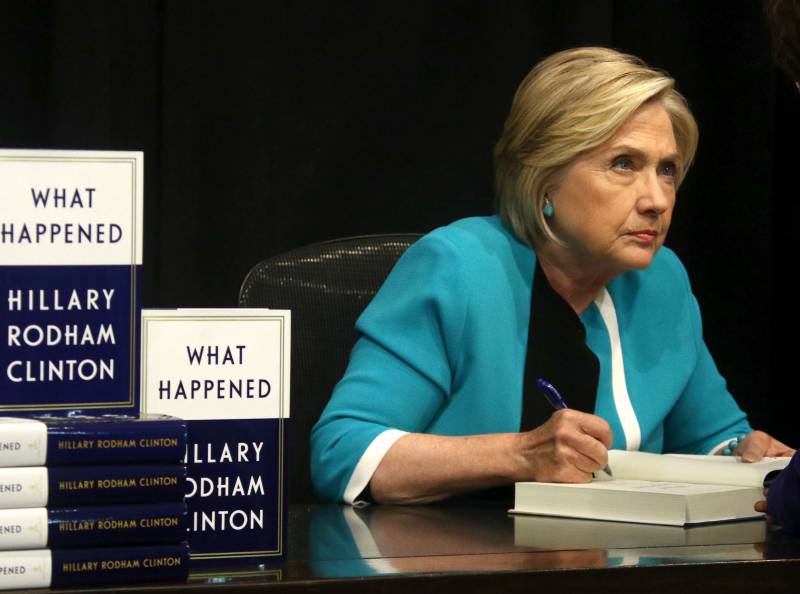 (c) Nancy Kaszerman
According to her, a large array of information relating to the "cyber attacks of Russia", the publication of e-mails by the National Committee of the Democratic Party and the former head of Clinton's headquarters, John Podesta, remains hidden.
In this case, as shown by the results of a sociological survey of Rasmussen Reports, 44% of Americans believe that the reason for the defeat of Clinton lies in the weakness of her candidacy. "External influence" as a factor of its political loss saw 40% of respondents. The number of people adhering to this point of view continues to decline. More than 60% of Americans believe that it is time for Hillary Clinton to leave politics "to retire. 49% believe that its political activities harm the US Democratic Party.
The publication of these findings by Rasmussen Reports coincided with the publication of Clinton's book, What Happened? In her work, she lays the blame for the defeat in the elections on Donald Trump (?!), Party rival Senator Bernie Sanders and Russian President Vladimir Putin.