The scandal associated with the disqualification of the Russian athlete in the classic bench press, Vladimir Balynts, is gaining momentum. Events unfolded in Finland at the European Championships in the sport. Vladimir, who has become the absolute champion of Europe, the federation decided to disqualify only for putting on a T-shirt with the image of Russian President Vladimir Putin.
It was in the middle of August, but it became known about the incident with the Russian athlete a month later.
On the event in the social network VKontakte reports the head of the Federation of powerlifting Yakutia
Alexander Grenadier
:
Got a DISK SQUAD for PUTIN

From 10 to 13 August 2017, the European classic bench press championship was held in Finland, where Vladimir Balynets became the absolute champion, setting the WORLD RECORD. Vladimir was on his podium in his T-shirt with the image of Vladimir Putin, which, according to powerlifter, brings him good luck and is his talisman. The International Powerlifting Federation described this as a violation of Art. 3, p. 4 IPF, which prohibits the display of all religious and political symbols.
Based on this, the IDF disciplinary committee decided to remove our powerlifter from participating in international competitions until the end of 2017.
The Russian champion at the awards ceremony unbuttoned his jacket, under which was a T-shirt with the image of the President of the Russian Federation in the form of a hockey team. At this moment, an athlete from Ukraine was on the pedestal next to the Balynets.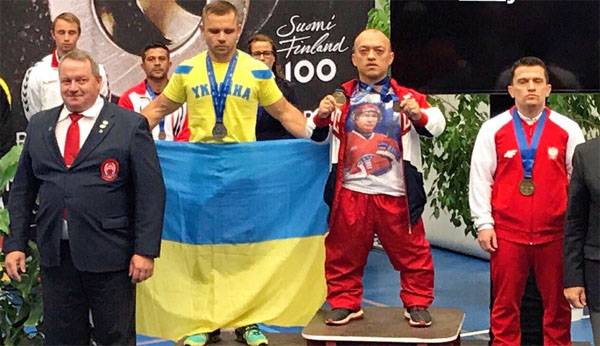 That is, it is normal to go out in the form of advertising means supposedly for losing weight or to broadcast vodka and beer during the match for sports federations - and everything else is forbidden ... Interesting logic.