According to the news portal "
Political scientist
", Newsader, referring to the publication
National Interest
, announces successful testing of the new high-performance radar of the air and missile defense Raytheon AN / SPY-6 (V) in the US Navy.
Advantageously distinguished by an active electronic scanning system, it should come to replace the less sophisticated Lockheed Martin AN / SPY-1D radar with a phased antenna array - the core of the combat information-control
Aegis systems
installed on destroyers of the Arly Burke type.
Aegis is a multifunctional integrated ship network, which includes controls, lighting and destruction of the situation, including the anti-aircraft missile link, also called Aegis.
In the course of the designated, third in a row, tests that took place on 7 in September, the work of the radar met the expectations placed on it. As part of the test from the west coast of Hawaii, US naval forces simultaneously launched a short-range ballistic missile and a multitude of air-to-surface missiles. The AN / SPY-6 (V) system is said to have successfully detected and recognized targets, and also tracked the trajectory of their movements in space.
This system was designed specifically for simultaneous work with cruise and ballistic missiles, and it functions properly. The radar successfully demonstrates performance in a series of increasingly complex test launches, and after preparation it will provide advanced functionality to the first US Navy Flight III destroyer.
- explained in command.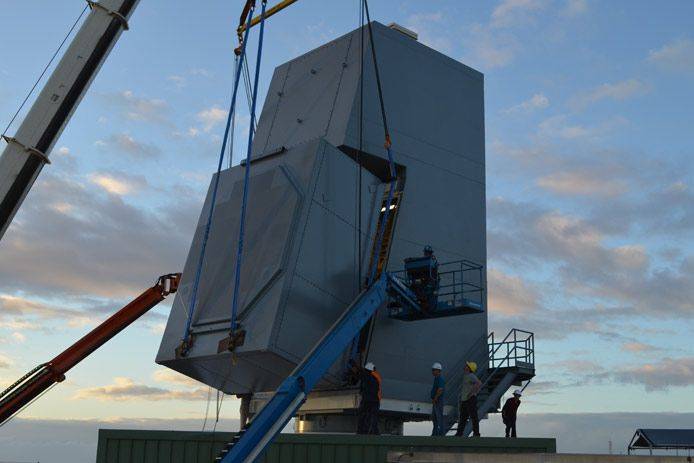 The use of components based on gallium nitride in the new SPY-6 radar made it possible to increase power about 30 times in comparison with the SPY-1 complex. In addition, the new radar is characterized by a large dynamic range, especially in conditions of extensive interference. A specific feature of the SPY-6 is the digital beam-forming, which makes it possible to quickly monitor the horizon for the presence of air targets. This allows the radar station to concentrate computing power to solve missile defense tasks.