The other day, during the Comtrans-2017 exhibition in Moscow, KamAZ plant specialists presented the latest domestic development in the truck family. This is a KAMAZ-54901 model with a K5 cabin. The company itself does not hide the fact that the new model is the answer to the constant critics of the company's production line. The main direction of criticism is that Russian trucks (tractors) lag behind a variety of parameters from foreign models.
The main innovation of KAMAZ-54901 with the K5 cab is improved ergonomics, the use of modern components and assemblies, as well as a modified design.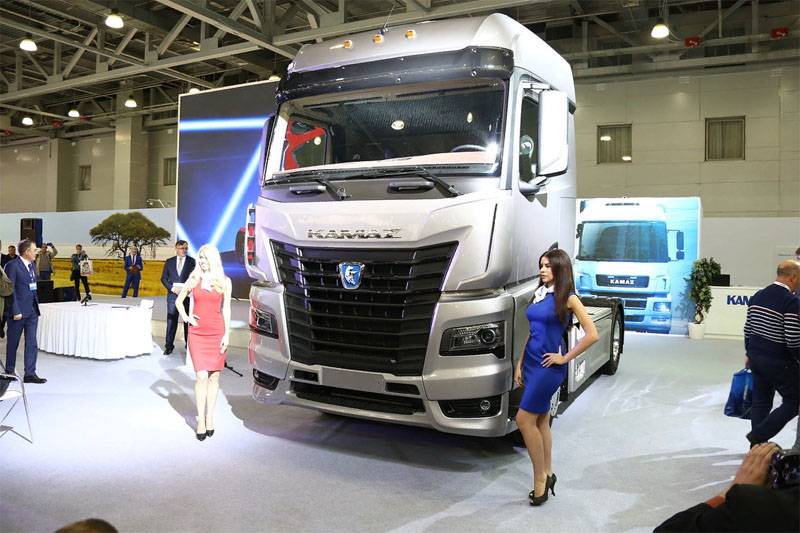 Some characteristics of the new model: distance from floor to ceiling in the cabin - 198 cm, width - 227 cm. The car is equipped with a new automated gearbox ZF Traxon and a new type of engine Р6. The frame of the car is made of light high-strength steels, the front axle with increased load up to 9 tons and maintenance-free hub part. Economical and "quiet" hypoid bridges with a gear ratio from 2,5 to 3,07 are installed, the capacity of tanks is also increased (one tank per 700 l or 2 tank with 600 l each). On the dashboard placed 10-inch touchscreen display. Created special steps and handles for easy cleaning of the windshield.
CEO
PJSC "KamAZ"
Sergey Kogogin quotes the press service of the department:
We made our transition to the premium segment. This is not very easy for the company, but, nevertheless, there is no other way. A pilot batch of 54901 vehicles is scheduled for release next year. The serial production model will be launched in the 2019 year. Fully transition to the series will actively go with the 2022 of the year.