Large anti-submarine ship "Vice-Admiral Kulakov" ensured the escort of the convoy through the Gulf of Aden into the Red Sea and began conducting exercises to receive on-the-fly liquid cargo from the tanker "Kama", reports
press office
Northern
fleet
.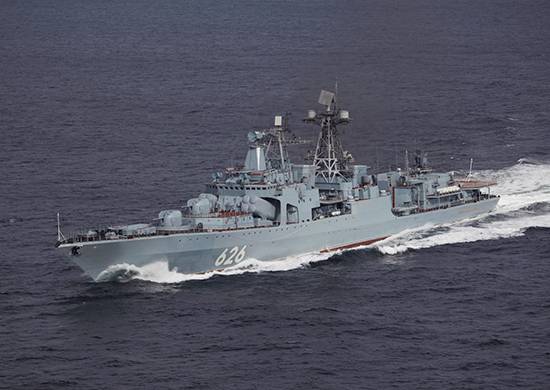 In the course of performing combat training tasks, the crew of the ship ensures the protection of civilian ships from pirates.
"Russian sailors escorted a bulk carrier flying the flag of the State of Barbados from the northern part of the Arabian Sea. The joint voyage lasted for three days, until the dangerous areas of the southern part of the Red Sea were passed. Currently, the threat of pirates attacking a civilian vessel is minimal and it continued to move independently, "the release says.
It is reported that after escorting the vessel "the crew proceeded to conduct exercises on the transfer of liquid cargo from the tanker" Kama "on the move by wake".
"After resupply, Russian sailors will continue to escort civilian ships from the Red Sea towards the Indian Ocean," the press service added.
The Navy was reminded that the BOD Vice Admiral Kulakov 12 August entered the Mediterranean Sea, and 25 August - in the Red Sea. During its trip, the ship has already passed more than 12000 nautical miles.