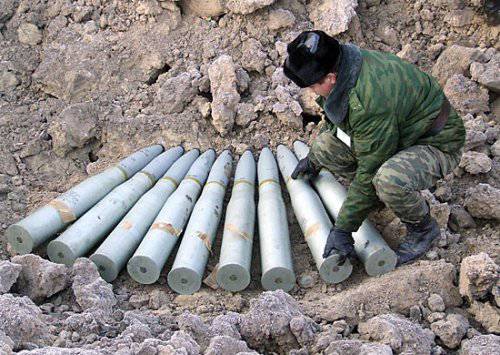 As the RIA "
News
", Red Aduy test sites in the Sverdlovsk region, Wide Karamysh in the Saratov region, Chebarkul in the Chelyabinsk region will soon be transferred to a non-detonation method of destroying ammunition. About this RIA "News" said yesterday the commander of the Central Military District Colonel-General V. Chirkin.
The fact is that residents of settlements located near a military training ground in the Saratov region have repeatedly complained about the explosions from which glass panes can shatter and break windows. In response to the governor's appeal, Anatoly Serdyukov ordered to reduce the volume of ammunition bookmarks from February 3 during disposal. In early February, the disposal of shells in Shirok Karamysh suspended.
Following the results of testing the polygons of the Volga Federal District, Colonel-General V. Chirkin said that the Saratov Region had recently been one of the hotbeds of tension. According to the general, complaints from the local population about vibrations and shaking were constantly being received. Currently there is no tension. Of the eighty tons of ammunition destroyed there every day, 56 tons, that is, about two-thirds, are disposed of in the non-detonating manner - using the "Destroyer" P-40. Chirkin also said that in the Sverdlovsk region the proportion of shells utilized by the "Destroyer" is also 2 / 3, and in Chelyabinsk - about 50%.
According to the general, in the near future, at the three above-mentioned ranges, the servicemen will switch to the disposal of ammunition exclusively by the "Destroyer".
By the way, 56 tons used in the Saratov region without detonation, allow you to blow up the remaining shells with thin tabs. The power of the explosions was reduced twenty-five times. Public complaints have ceased.
The general clarified that the use of a new device for the destruction of ammunition will begin the other day at the Yurga range in the Kemerovo region.
Chirkin said that in all the ranges of the Central Military District, in the future, the destruction of ammunition will be carried out exclusively non-toning method.
As RIA Novosti explained, the head of the press service of the Central Military District, Colonel J. Roshchupkin, P-40 burns out the powder charge of ammunition, and an explosion does not occur. Roshchupkin reported that the metals remaining after the combustion of gunpowder will be used for peaceful purposes.