The elite formations of the Syrian troops seized on Friday the settlement of Al-Shula and completely cleared it of terrorists. As reported by SANA, this town served as an outpost of militants of the Islamic State terrorist group *. It is located 22 km south-west of the provincial center of Deir-ez-Zor and stands on the highway leading from the oasis of Es-Sukhna.
On Tuesday, soldiers of the Republican Guard and Special Forces Brigade "tigers" broke through the blockade of Deir-ez-Zor in the western sector of the front and joined up with the defenders of the base of the 137 artillery regiment. As a result, more than 900 tons of humanitarian supplies were delivered to the city, besieged for more than three years.
On Thursday, northwest of Deir ez-Zor, troops liberated a strategic bridge over the Euphrates and greatly expanded control over urban neighborhoods. Now the troops continue operations to unblock a military airfield, where the soldiers of the 17 th mechanized division are defending.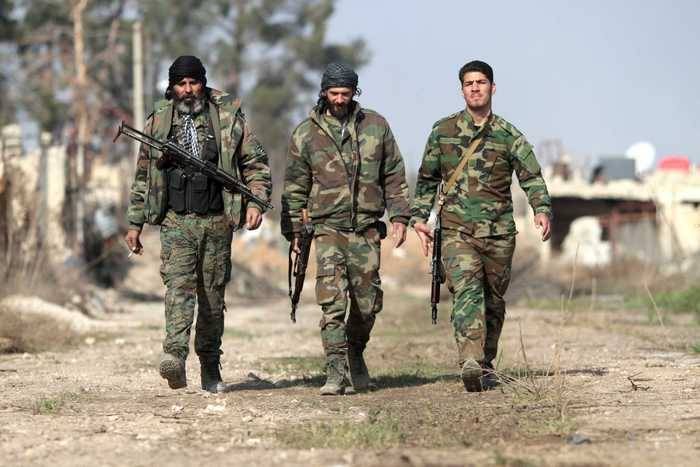 As reported by the agency, on Friday, government forces occupied the height of Tell-Allush and pursued the remnants of the IG gangs in the outskirts of El Macabir north of the airbase. At the same time, the Syrian Air Force and the Russian VKS launched a series of attacks on the fortified positions of militants in the suburbs of Ayyash, Bougeiliah, Jnaine and Hoveija-Sakr, as well as at Mount Jebel es Sarda. Opponent suffered losses.
Deir-ez-Zor was besieged by IG gangs in 2014, its eastern regions captured by terrorists. 93 thousand people live in the city now. Removing the siege from the administrative center of the eastern province will allow the operation to clean up the Euphrates valley (Wadi Furat) from terrorists up to the border with Iraq.
The liberation of the province of Deir ez-Zor, where oil and gas fields are concentrated, will be important for the Syrian economy and the resumption of trade with Iraq.
Also today, it was reported that the Syrian military liberated from the terrorist group IG * the oil field near Deir ez-Zor and continue to move to the city.
As a military source told the agency, the army took control of the At-Time field and the areas near it. Terrorists during the fighting suffered "big losses", reports
TASS
.
IG * is a terrorist organization banned in Russia.