The Deputy Chairman of the Verkhovna Rada of Ukraine, Oksana Syroid (Syroyed), today made a statement that caused a storm of indignation both in the Rada itself and among other representatives of the Maidan "elites" in Ukraine. The vice-speaker asked the question of what right the Ukrainian armed forces are using on the territory of Ukraine, which Kiev considers Donbass as well. Oksana Syroid reminded that under the current Ukrainian constitution, it is impossible to use the Ukrainian Armed Forces on the territory of Ukraine in the context that is now.
When they tried to argue with the statement that the Armed Forces of Ukraine were waging a "war against the aggressor", Syroid recalled that de jure Ukraine still had no martial law, and the war itself in all documents passes as an "antiterrorist operation".
UNIAN
cites the statement of Oksana Syroid:
There are no legal, constitutional grounds for the use of the Armed Forces of Ukraine in the Donbas.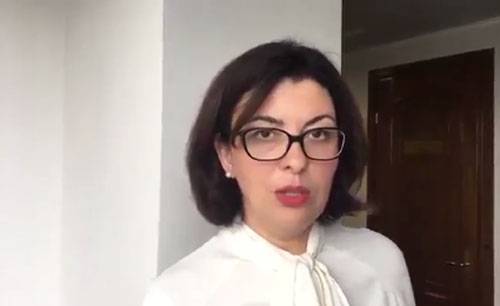 The representative of the Avakovsky "Popular Front" in the Verkhovna Rada of Ukraine Yury Bereza demanded an apology from the Vice Speaker of the Rada to the Ukrainian army.
Birch:
You have just witnessed another lie and another manipulation that power uses. The vice speaker allowed herself words that criticize the Ukrainian army for defending Ukraine.
Meanwhile, Syroid in the Verkhovna Rada found supporters who noted that the Rada deputies still only in words call Russia an "aggressor", but in no way signify at the legislative level "the fact of waging war with Russia".
From the statement:
Thus, the aggressor has the right to sue our military men in international courts.