There is a rumor in social networks, according to which Russia allegedly dropped its most powerful non-nuclear bomb on terrorists in the Islamic State * in Syria, which is called the "father of all bombs," according to The Drive. Material translation provided by
InoTV
On September 7, 2017, a post appeared on Twitter, stating that eyewitnesses and activists near the Syrian city of Deir ez-Zor saw this bomb in action. However, so far neither the English-language media of Russia, nor the Ministry of Defense have reported on the use of this weapon.
As noted by The Drive, about the "father of all bombs", which is officially called
Aviation
high-power vacuum bomb (AVBPM), little is known. There are practically no official photo or video images of these weapons. One recently published tweet even used a photograph of a mock-up of the Soviet thermonuclear Tsar Bomb. According to the Russians, AVBPM weighs more than 14 thousand pounds, and the power of its explosion reaches 44 tons of TNT.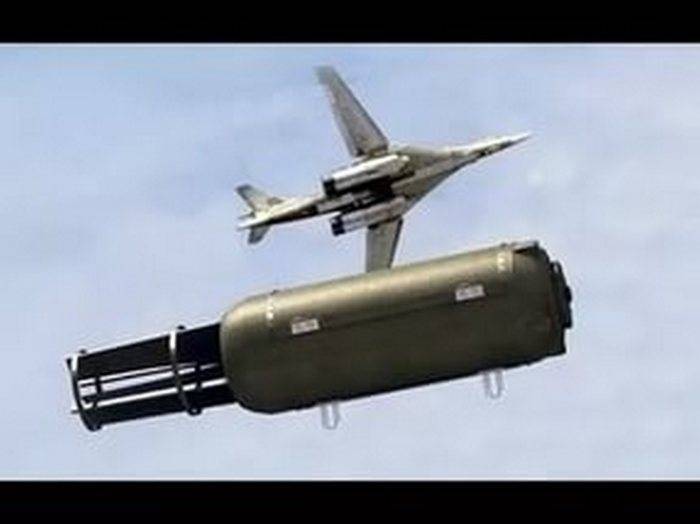 If the reports of the Russian air strike prove to be true, then this could be a message for other parties to the conflict in Syria, the publication said. So, the Syrian rebels from the Syrian democratic forces, supported by the United States, made it clear that they were going to launch an attack on the province of Deir ez-Zor, in order to allegedly strike the IS. However, as the newspaper notes, as a result of this operation, they can begin to strike the troops of the Syrian government and its allies.
And a powerful blow to Russia can be viewed as a warning to all the forces opposing the regime and interested in entering this territory from which the IG is forced to retreat.
Regardless of whether Russia really dropped the "father of all bombs" in Syria or not, the Kremlin has already decided to use this country as a testing ground to demonstrate its newest weapons, even if they are not well suited for the current situation. So if the "father of all bombs" is really on alert, then it may well be that over time we will be able to see him in action in this war-torn country.
- summarizes The Drive.
"Islamic State" * (IG *) is a terrorist group banned in Russia