Russian humanitarian aid was delivered to Deir ez-Zor, the Israeli Air Force struck a new blow in the western part of the Hama province, reports
FAN
with reference to Syrian sources.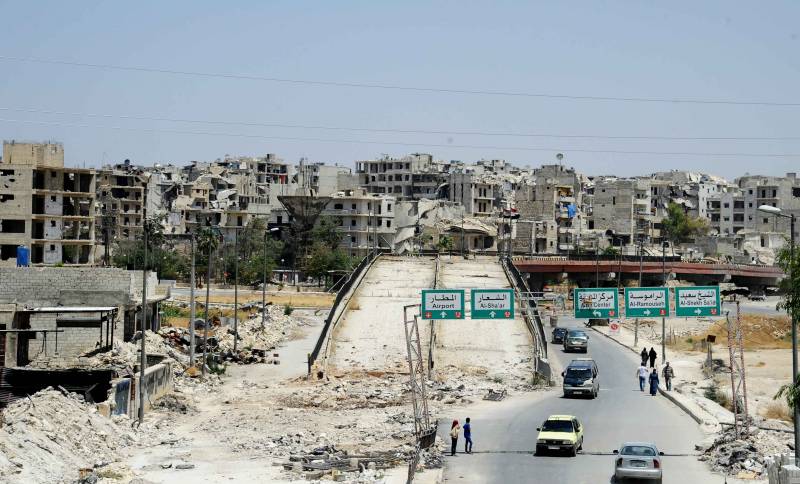 In the area of ​​Eastern Ghouta, armed clashes continued between units of the SAR and opposition groups. During the clashes, government troops suffered casualties. At least eight Syrian Arab Army (SAA) soldiers were killed by the radicals.
In the afternoon, units of the government army managed to cleanse several settlements in the east of the province of Homs from ISIS (ISIS, a group banned in the Russian Federation) from terrorists. The settlements of Rasm Hamid, Al-Khubra Al-Gharbiya, as well as a number of strategic heights came under the control of Syrian troops and pro-Assad Shiite militias. Russian military aircraft provided significant support to the pro-Assad forces and the SAA. Thus, the Akerbat boiler continues to shrink gradually.
During the day, clashes were recorded between government forces and IS troops on the highway leading to Deir ez-Zor. And the city received humanitarian aid from the Russian Center for the Reconciliation of Warring Parties. Despite the difficult path and the threat of attacks from terrorists, Russian servicemen delivered packages of food and medicine to local residents in 40 trucks. In addition, a consignment of military equipment was sent to the provincial capital, as well as pontoon bridges and boats to cross the Euphrates. If the SAA crosses the river, then it will thereby be able to cut the main supply line of IS, and also block the path to Deir Ez-Zor for the Kurds and the United States.
The Israeli Air Force again launched an airstrike on areas controlled by the Syrian Arab Army. This time, the air attack targeted the town of Masiaf to the west of Hama. As a result of the air raid, at least two servicemen were injured. The Israeli government declined to comment on the incident.
The fighting by radicals to the west of the Akerbat cauldron is forcing government forces to strengthen their defenses in this direction and slow down the clearing of territories in the east of the region that are still under IS occupation, which plays into the hands of the militants. Thus, a new counter-attack by IS near Akerbat claimed the lives of nine SAA fighters. Nevertheless, according to information from government sources, the allied forces of the SAA and pro-Assad militias, with the help of the Russian Aerospace Forces, occupied two villages west of the city of Akerbat. In the vicinity of the village of Hamadi Omar, a military drone of terrorists was shot down by servicemen of the SAR army.