Speaking at a plenary meeting of the Eastern Economic Forum (WEF) in Vladivostok, Prime Minister of Japan Shinzo Abe said that an important step must be taken forward and sign a peace treaty. According to the head of the Japanese Cabinet, it is necessary to put an end to this issue.
Words Shinzo Abe cites news agency
Interfax
:
In just one year, shifts began between Japan and Russia, which we could not do 70 years before. If we continue such steps for another year, and then another year, then I'm sure that we will see in front of us nothing but the bright future of Russian-Japanese relations, which will be able to fully unleash the full potential. It is for this that we must put an end to the abnormal situation, when we still do not have a peace treaty. Vladimir, we must fulfill this duty together.
Continuing his tirade, Shinzo Abe said that it was necessary to overcome all difficulties and pass on to future generations a world in which Japan and Russia would be able to reveal all their possibilities in the framework of bilateral contacts.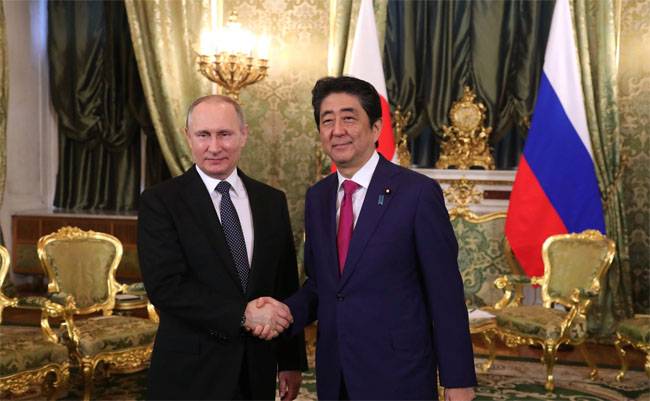 But Russia itself has long urged Japan to put an end and come to the signing of a peace treaty. However, it was the Japanese side that every time linked the signing of the contract with the "transfer of the Kuriles" to the jurisdiction of Tokyo, saying that the issue of "disputed territories" should be resolved.
Recall that earlier Russian President Vladimir Putin noted that Russia has no questions on the territories to anyone ...