Another scandal associated with the provision of the APU, broke out in Ukraine. It is connected with the supply of food for military personnel in the supply line of the Ministry of Defense. If earlier, expired food products, including canned food, produced under President Kuchma, could be received by the Armed Forces of Ukraine, now the servicemen find even more original things in their dry ration. And things in the truest sense of the word.
So, on the eve of
Facebook
A note was published by a Ukrainian serviceman, Oleg Andrienko, in which it is demonstrated that a construction glove is found in a can of beef stew. And in terms of its volume, the glove is clearly superior to beef stew in the same jar.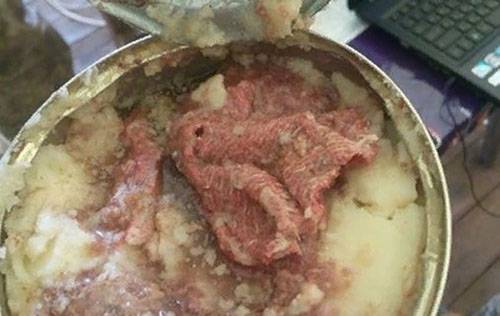 Oleg Andrienko writes:
That's what kind of stew supplied to the army. It has all the necessary vitamins and even more: work gloves. For full taste.
The command of the Navy, in the subdivision of which the consignment of canned "Beef stew" from the "attentive" producer, arrived, said that they would react to the publication.
From the report:
Some military personnel of the Ukrainian Navy in social networks expressed dissatisfaction with the quality of food in a military unit, namely regarding the identification of poor quality canned meat. According to this fact, according to the decision of the commander of the Naval Forces Commander, a service check is already being conducted.
It is not entirely clear, the service check concerns the supplier or the soldier himself, who allowed the publication with the material "discrediting the honor and dignity of the Ukrainian army"? ..