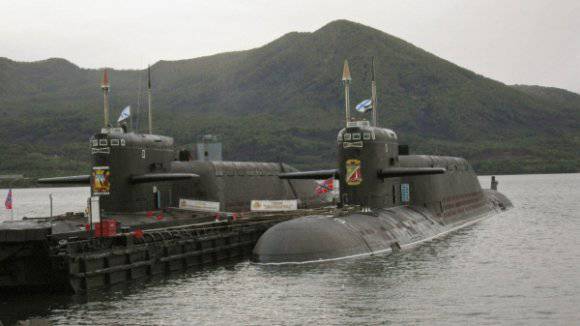 According to a source of "Izvestia" in the Russian Navy, in Vilyuchinsk, on the Rybachy Peninsula (Kamchatka), a pier will be built for the Boreev site. It will appear to the right of the piers that have Pike, Squid, Halibut, and Antei. Another pier will be built on the opposite shore of Krasheninnikov Bay, where the missile loading point is located. Powering boats and onshore infrastructure will be provided by a floating nuclear power plant.
A representative of the Navy told Izvestia that the piers would be built using the usual technology: embankment of rubble, installation of metal sections, fixation with anchors.
The purpose of the piers, according to the Izvestia interlocutor, is to provide the boat and crew with fuel, electricity, fresh water and food.
At the point of loading missiles pier will be protected from winds and waves of the pier, which will save the crews of boats from having to wait for the weather - to load or unload ammunition. The waiting time can reach 2 weeks, and therefore the mole is long overdue. About this "Izvestia" said the Navy.
To ensure the independence of "Boreev" from the energy sector of Petropavlovsk-Kamchatsky and Vilyuchinsk, the floating nuclear power plant will be supplied with a floating nuclear power plant with a capacity of 70 MW. Such power will be enough for the entire base of the submarine, as well as for the energy supply of the city and villages.
However, it is not known whether the station will be completed before the boats arrive in Vilyuchinsk. As they told Izvestia at the Baltiysky Zavod, where the station is being constructed, due to the bankruptcy procedure, the end of construction was postponed to the end of 2013. The head of the floating nuclear power station S. Zavyalov told Izvestia that at the present time it is impossible to say something . He noted that, according to preliminary estimates, the station will be completed by 2014, but "these deadlines are unacceptable for us".
Meanwhile, as Zavyalov reported, the Baltiysky Zavod has an advantage in the form of a unique competence in the field of creating nuclear-powered icebreakers (as such, in essence, is the floating nuclear power plant) and heavy nuclear cruisers. According to Zavyalov, the transfer of the construction project to any other organization is excluded.