The Russian Aerospace Forces continued to strike at the IS group (ISIS, banned in the Russian Federation) in Deir ez-Zor, terrorists in the Akerbat region in the east of Hama counterattacked government forces, reports
FAN
with reference to Syrian sources.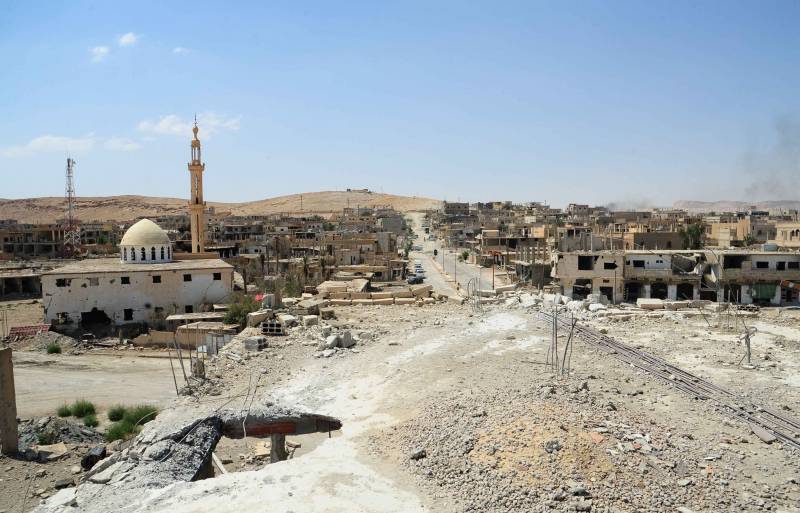 Clashes continued throughout the day between armed opposition groups and units of the government army in the Eastern Ghouta region (Damascus). During the attempted offensive, the SAA lost
tank
T-72. In addition, one of the brigadier generals of the SAR troops, Hasan Bilal, was shot dead near the city of Irbin.
The Islamists, whose units are based in the west of Idlib province, once again attacked the strongholds of the government army in the northern part of Latakia in the Jebel Al-Akrad mountain range. In addition, in the second half of the day, the administrative center of the region came under rocket fire, as a result of which one of their houses in the Kunainis area was partially destroyed.
Fighters of the Syrian Free Army (FSA), stationed in the south-west of the province of Homs, have lost the support of the British forces. According to the British newspaper Daily Telegraph, the special forces of the United Kingdom left the area of ​​the At-Tanf border crossing, since the FSA units are fighting not so much with the terrorist group IS, as with the government army of the SAR.
During the day, government forces, together with the forces of the militia units, continued to advance in the direction of Deir ez-Zor with the help of the Russian
aviation
... A day earlier, Russian military aircraft inflicted significant damage to a terrorist group, eliminating many pieces of military equipment of terrorists, as well as a command post and more than 20 military pickups with
weapons
... Nevertheless, despite reports from some military sources on Twitter, only a small army unit managed to reach the SAA units besieged in Deir ez-Zor. The parties continued to fight near the settlements of Kobajip and Al-Shula. The Al-Harrat oil field came under the control of the Syrian army.
Units of the Syrian Democratic Forces (SDF), supported by the Western coalition air force, continued to develop the offensive in Raqqa. Both sides suffered casualties: IS - 27 people, Kurds - 20.
Clashes continued between IS and the Syrian army in the vicinity of the liberated city of Akerbat a day earlier. The militants made two attempts to regain their lost positions - they attacked the SAA convoy located near the settlement of An-Naimiya, and a little later they sent a suicide bomber to the same area. Nevertheless, in the afternoon, the forces of the SAA and pro-Assad detachments, with the help of the Russian Aerospace Forces, advanced in clearing the territory inside the Akerbat Cauldron and occupied the settlements of Masud and Um Rammal. In addition, SAR troops discovered several ammunition storage facilities left by the militants, east of Salamia.