The world's largest nuclear submarine cruiser "Dmitry Donskoy" returned to its permanent station in Severodvinsk after a three-month march, reports
RIA News
press service of the North
fleet
.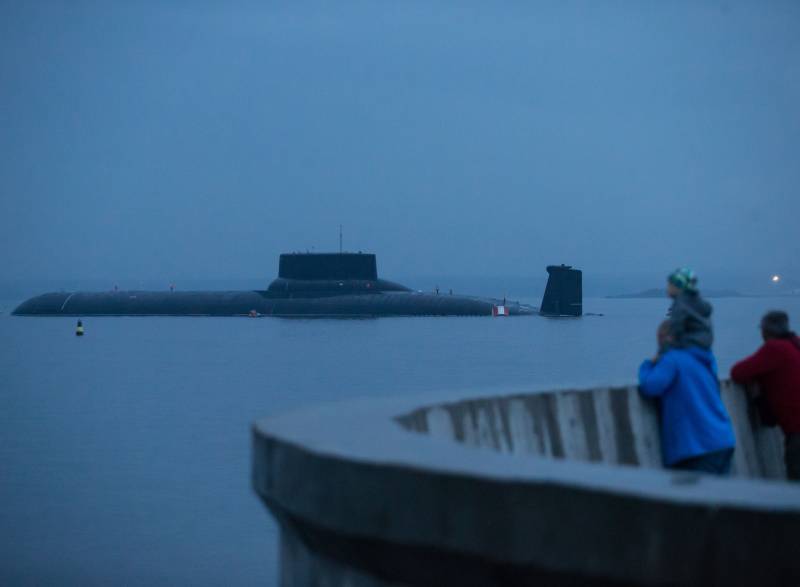 "Dmitry Donskoy" in Petersburg, July 2017 of the year.
The Dmitriy Donskoy heavy nuclear-powered submarine strategic cruiser (TARPNS) returned to the White Sea naval base. The crew of the submarine for more than 3's months was outside the point of stationing,
says release.
It is reported that the "crew of Dmitry Donskoy" participated in the Main Naval Parade on the Day of the Navy in Kronstadt and performed the tasks of combat training in the Barents Sea ".
According to the information, "at the berth in Severodvinsk the crew of the submarine was met by the commander of the White Sea naval base, the ex-commander of" Dmitry Donskoy ", rear admiral Arkady Romanov. He accepted the report of the captain of the first rank ship commander Oleg Tsybin on the successful implementation of the tasks and arrival at the station of permanent basing. "
Romanov congratulated the submariners on their return home and thanked them for their service.
The press service recalled that the "Dmitry Donskoy" cruiser is the world's largest operating submarine, its length exceeds 170 meters, the width is 23 meters, the draft in the surface position is about 11 meters, and the underwater displacement is almost 50 thousand tons ".