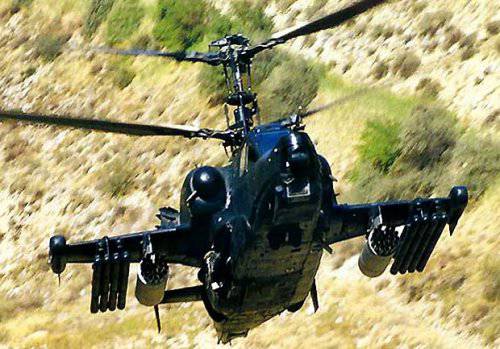 In Arsenyev, a solemn event took place at the Progress Aviation Plant, dedicated to the start of mass production of the new Alligator Ka-52 two-seater combat attack helicopter, RIA PrimaMedia reports.
The guests of "Progress" were shown the production workshops of the enterprise, which assembled Yak-54 sports aircraft, Ka-50 (Black Shark) and Ka-52 (Alligator) helicopters. After which, the audience admired the group parachutist jump, as well as the combat maneuver
aviation
.
"A helicopter with a coaxial propeller scheme has indisputable advantages over the helicopters of the classical scheme in terms of maneuverability and thrust-to-weight ratio. The car was tested in the difficult mountain conditions of Chechnya, where the Ka-52 showed itself perfectly. The helicopter is unique in its own way. We were able to implement the concept of a "commander machine", when in a group of several combat helicopters and one is engaged in searching for the enemy - this is Ka-52, while others destroy the targets prompted by them. We plan to use it together with the Ka-50 helicopters. Nevertheless, the "Alligator" itself is capable of destroying any targets, since it is equipped with all the weapon systems installed on the previous model. Of course, the Ka-52 can be used independently, "explained Sergey Mikheev, General Designer of the Kamov Design Bureau.
Yuri Denisenko, Director General of AAC Progress OJSC, said that the order for production of the Alligator was received only at the end of last year.
"Currently we have an order for a series of 30 machines that will be produced in four years," he added.