The US Department of Defense paid for the first two CH-53K King Stallion serial helicopters. As reported on the website of the Naval Institute of the US Navy, the company Sikorsky (part of the corporation Lockheed Martin) received the first contract for the assembly of "the most powerful American helicopters."
The CH-53K King Stallion helicopter is a continuation of the CH-53 lineup, which has been produced since 1964. The new modification is the largest and most "powerful" in the family of "Stallions" (from the English. Stallion - stallion). To date, four pre-production prototypes of the CH-53K have been assembled, which have passed a series of tests and transferred to the United States Marine Corps. The cost of the first two serial samples was $ 304 million.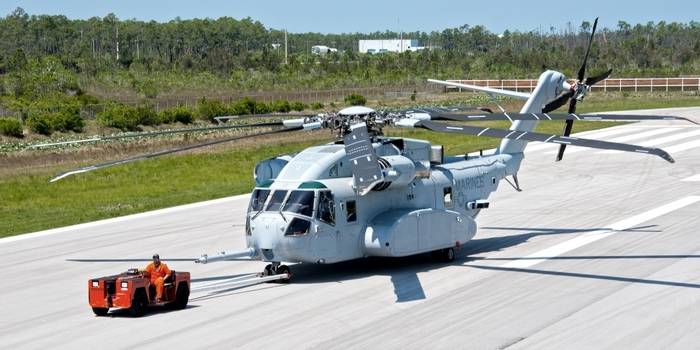 CH-53K King Stallion is a heavy transport helicopter with a maximum take-off weight of almost 40 tons. It can carry over 12 tons of cargo on an external sling, and its cargo hold can accommodate up to 55 passengers. The crew of the helicopter is from two to five people - in addition to two pilots, it can be included in the composition of three arrows, providing circular protection.
The maximum range of the CH-53K is 840 km, the speed is 315 km / h. The helicopter is equipped with active and passive protection systems - in particular, the armored hull protects the crew and passengers from small-arms fire
weapons
, and active protection systems can protect the machine from damage by missiles. In total for the Marines plan to buy about two hundred of these machines.
Despite the fact that the cost of the CH-53K King Stallion is comparable to the latest fifth-generation fighter F-35B, the US Department of Defense considers such costs justified, appreciating the capabilities of the helicopter. Thus, the new vehicle is multifunctional and can transport the army off-road vehicle HMMWV in the internal compartment without conversion and carry out the evacuation of the wounded, reports
"Warspot"
.