According to the portal Aldrimer.no, Norway, together with Germany, France, Canada and the USA, staged an intensive hunt for the "Russian submarine" using patrol planes
aviation
who raided from Andoya, and from Bodø, and from the Keflavik base in Iceland, from the Lossiemouth base in Scotland, as well as from France. Material provided
ИноСМИ
According to sources in NATO, the forces of the defense bloc were aimed at finding the Russian strike submarine class "Ash". Presumably, this is the Kazan submarine No. 2 (K-561), which was launched at the Sevmash shipyard in Severodvinsk only on March 31.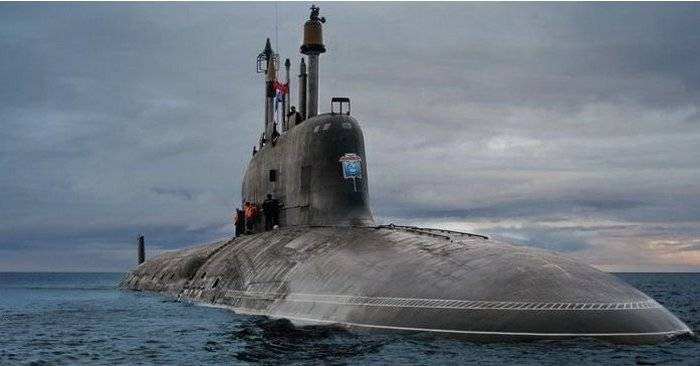 Probably, the Russian submarine was in the area for some time in order to track the movements and operations of the aircraft carrier group. The US-British aircraft carrier connection from 1 to 10 in August conducted the Saxon Warrior 2017 exercises in the North Atlantic. The purpose of the exercise was to develop actions in the event of crisis situations and actions to identify new threats.
- informs edition.
The United States and Britain in the North Atlantic have a group of aircraft carriers. It includes the US aircraft carrier USS George HW Bush and the British HMS Queen Elizabeth (R08), two British frigates, an American missile cruiser and a destroyer. The command of the Navy gave the Norwegian frigate KNM Helge Ingstad to the aircraft carrier group.
The fact that now the control over the location of the submarine of the Russian Navy is lost is a big headache for NATO, his interlocutors in the alliance say.
A submarine of the "Ash" class with a length of 133 m can reach a maximum speed of the 32 node, including being under water. Her crew consists of a 85 man, including an 32 officer. The vessel is extremely efficient and moves much quieter than the Russian submarines of the previous classes. In addition to the torpedoes, the submarine is armed with 32 missiles, including the sea-based SS-N-27 (3M54) and the awesome SS-N-30 (3M14, "Caliber"), designed for shelling ground targets.
- stated in the material
Today, NATO does not have a satisfactory response to the Caliber missiles. At sea, this is a fearful adversary, especially now, on the eve of the large-scale Russian-Belarusian exercises Zapad-2017. These maneuvers are of serious concern to NATO, who believes that the military plans of the Russian Federation may go beyond the exercise.
- stated in the article
The Norwegian military refused to comment on information about a possible search for a formidable underwater vessel.
As a comment to this information, we can only say that a significant part of it is absolutely wrong.
- said the representative of the operational command of the armed forces Brynyar Sturdal. He, however, made a reservation that the Norwegian P3 Orion aircraft during the specified period "performed several different tasks." The publication is known that the Norwegian Orion is extremely difficult to carry out a sufficient number of operational sorties in the northern regions. If these planes do not take off often enough, Russian submarines will be able to go unnoticed and leave the Barents Sea to the Atlantic Ocean, where it will be much more difficult to find them, concludes the author.
Earlier, in 2016, the "Russian submarine" was searched without success in Sweden.