The night before in the terrible landed board from Baghdad. The flight from the Iraqi capital to the Chechen Republic delivered 12 women and children, who were actually in captivity in the Middle East at ISIS (* prohibited in the Russian Federation). The head of Chechnya, Ramzan Kadyrov, made a post on Instagram a few hours before the board arrived:
The plane will take 12 people - four women and eight children aged from six months to nine years. Among them is one resident of Chechnya with three young sons, a resident of Tver with her son, a girl from Tyumen with her son. Also on board are a citizen of Kazakhstan with three children and others.
In Grozny airport, they were met by relatives and officials. Anna Kuznetsova, the ombudsman for children's rights in the Russian Federation, was among those meeting.
From the message
press service
authorized:
Anna Kuznetsova together with the Chairman of the Parliament of Chechnya Magomed Daudov, the head of the Administration of the Head and Government of the Republic Vakhit Usmayev, the Commissioner for Children's Rights in the region Khamzat Hirakhmatov, other representatives of the leadership of the Chechen Republic and her relatives met the children who arrived at the ramp. On-line on the landing strip and in the airport building, together with representatives of relevant departments, the issue of processing the necessary documents and assistance was resolved.
Anna Kuznetsova:
We waited for the children to share the joy of returning and reuniting with their relatives. I hope that another happy stage will begin in their lives today. Today, not only children from Chechnya and Dagestan returned from these hot spots to Russia, but also for the first time from other regions of the country. In their native cities they are ready to provide all-round support and assistance, I will ask maximum assistance to provide regional ombudspersons for the rights of the child.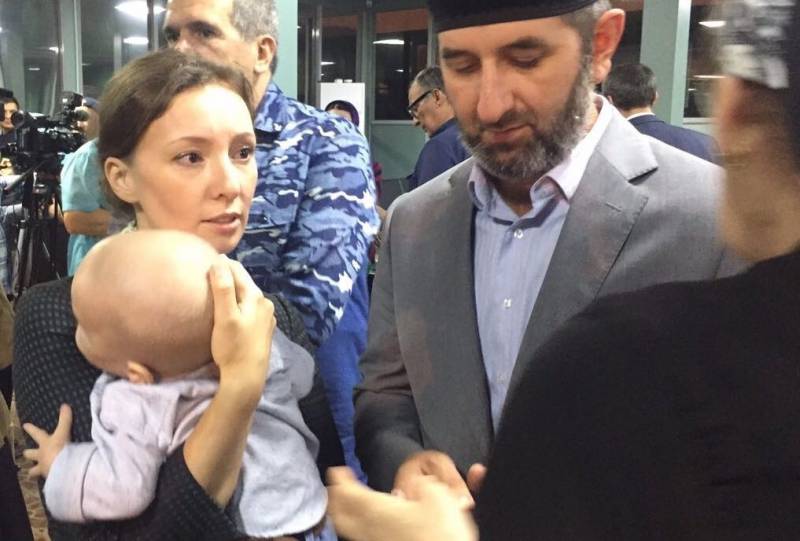 The leadership of the Chechen Republic provided active assistance in returning Russian and Kazakh families from Iraq.
Most of those who returned earlier moved to Iraq after their husbands (fathers), who decided to join the terrorist groups. The return of women and children was carried out after the procedure was agreed with the official Baghdad.