The Ministry of Education and Science of Poland announced on August 31 an official ceremony of adopting the first divisional firing module "Regina" based on the 11-mm self-propelled howitzer "Krab" on the territory of the 155 th Mazury artillery regiment located in Węgorzewo.
The fully equipped division can now be fully used for its intended purpose as part of the Polish Ground Forces.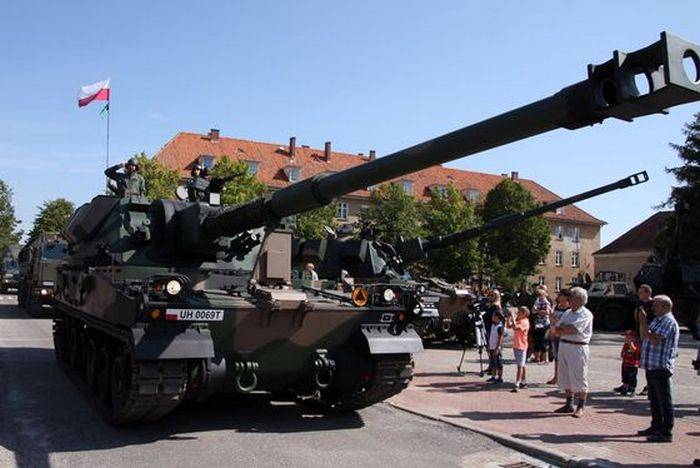 In December 2014, the Agency of Defense Procurement Programs of the Ministry of Defense of the Republic of Korea (DAPA) reported on Poland's order of K-9 self-propelled howitzer chassis modified in accordance with Polish requirements: 120 units. chassis (24 solid order + option on 96 units.). According to the terms of the agreement, the first batch of platforms should be produced in the Republic of Korea, and the subsequent chassis should be produced in Poland under license. The integration of the supplied K-9 chassis with the tower of the British 155-mm self-propelled howitzer AS-90 as part of the delivery program of the Polish Armed Forces self-propelled howitzer "Crab" is entrusted to the specialists of the company HSW
"TSAMTO"
.
The Inspectorate for Armaments of the Ministry of Defense of Poland 14 in December 2016 of the year entered into a contract with HSW for the supply of the country's Armed Forces four divisional fire modules "Regina" based on 155-mm SG "Crab" (total 96 installations). The cost of the agreement was about 4,65 billion zlotys (1,1 billion dollars). The first nine 155-mm SG "Crab" on the new chassis were transferred to the Polish Armed Forces at the HSW 18 plant in November 2016.
In December, 2016, Hanwha Techwin signed a contract with HSW for the delivery of the K-96 "Thunder" K-9 tracked chassis to Poland. Its cost was 279,5 billion won (263,36 million dollars). The agreement provides for the supply of chassis from 2017 to 2023.
The 11 th Mazury Artillery Regiment became the first part of the Polish Armed Forces, which was equipped with the Regina divisional fire module. It includes 24 howitzer "Crab", three command and staff vehicles, eight fire control machines, six ammunition hauling trucks and one repair shop.
As expected, all ordered divisional fire modules will be adopted by the Polish Armed Forces for the 2024 year.