The Baltic plant, which Vladimir Putin called the flagship of shipbuilding in June, mentioning the new nuclear icebreaker Leader among its orders, could lose this promising project, reports
Kommersant
.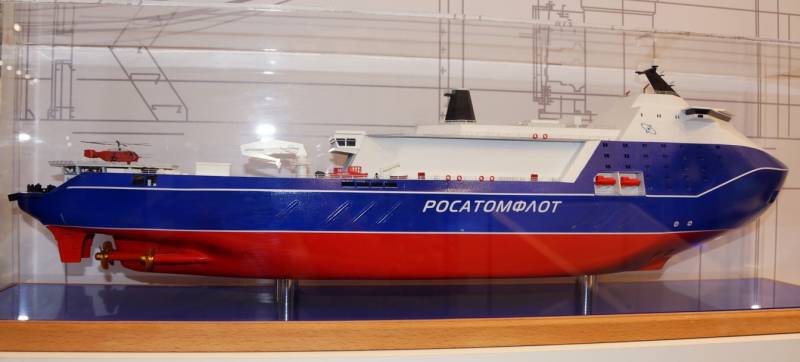 According to the newspaper, United Shipbuilding Corporation (USC) plans to transfer the construction of a new super-powered icebreaker "Severnaya Verf".
"Although both the Severnaya Verf and the Baltzavod are part of the USC, large independent enterprises of the corporation are de facto competing for orders, and Leader is a project that can become the basis for the prospective loading of one or another shipyard. Meanwhile, right now, none of the shipyards in Russia are ready for the construction of an icebreaker, "the newspaper writes.
The general director of BZS, Aleksey Kadilov, recently admitted that today "Russia cannot make Leader", in particular, "due to the lack of suitable parameters at the shipyards (icebreaker length 209 m, width 47,5 m) and sufficient water depth." We need a serious investment in dredging.
One of the possible options for the "Leader" was that Kadilov also called the Kerch "Gulf", where the atomic lighter "Sevmorput" was built (the draft of 12 m, the "Leader" will have a minimum, 11,5 m), but dredging will be required there.
In the "Gulf" newspaper assured that "the project is of great interest" and the company "has all the necessary capacity." Moreover, the plant is already preparing for the possibility of obtaining a "Leader". They explained that "construction can be carried out in dry dock with a length of 360 m and a width of 60 m." The company has already revived the nuclear safety department and plans to create an aggregation site.
Although the three leading shipyards are actively fighting for the Leader, the project's prospects are still not clear.
The Ministry of Economic Development clarified that they submitted to the government a draft state program for the development of the Arctic zone with the item "Development of the shipbuilding industry" for the construction of the "Leader". The amount of financing and terms will be determined "when the Ministry of Industry and Trade provides the necessary supporting documents and materials". In turn, the Ministry of Industry and Trade said that the decision to build an icebreaker "is in the final stages of adoption and the relevant regulatory clearance." Now sources of financing are being determined.
According to the source of the publication in the industry, clarification of the situation is expected in September-October.