According to the blog information
diana_mihailova
, EADaily edition reports shipments
weapons
from Belarus to Syrian militants.
In September 2015, the company Purple Shovel LLC from Delaware won the tender of the General Directorate of Special Forces of the United States Department of Defense (SOCOM), which provided for the shipment of Syrian armed opposition, prepared by the US military, for 50 million dollars. rocket launchers carried in Bulgaria. At the same time, the 700 guided missiles of the anti-tank complex also appeared.
9M113 "Competition"
. In Bulgaria, they were absent, but there were in Belarus. They were purchased by the Bulgarian company of arms dealer Alexander Dimitrov Alguns ltd and as a result, the anti-tank systems were at the disposal of SOCOM.
According to official information, in 2015 Belarus exported armaments worth 27,4 million euros through Romania to Bulgaria. The goods (declared smooth-bore weapons with a caliber of more than 20 mm and weapons with a caliber of more than 12,7 mm, ammunition and missiles, shells, bombs) were transported by convoys of trucks crossing the country 13 times. In 2016, the value of weapons transferred to Bulgaria amounted to 84,2 million euros. Among them were portable rocket launchers, 122 mm shells, RPG grenades, rockets, armored vehicles and
aviation
charges.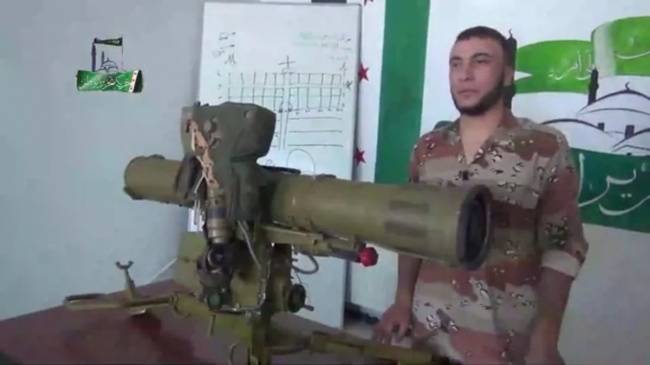 There were other ways of delivering weapons to Bulgaria. In total, 2015 brought Bulgarian weapons to 37,8 million euros in Bulgaria. Earlier, arms trade between Bulgaria and Belarus was practically not observed. So, as the Romanian Foreign Ministry reports, in the 2014 year, small arms of a caliber of less than 20 mm were transported through the country to 68 thousand euros. The Ministry of Economics of Bulgaria talks about the supply of missiles, shells and electronic equipment to 411 thousand euros in 2013 year.
The possibility of Bulgaria independently producing weapons in the volume necessary for the local army speaks in favor of the transit nature of supplies. So, Vazovskiy Machine-Building Plant from Sopot today offers both missiles for Konkurs anti-tank missile systems and other Soviet-made missile systems - Malyutka, Fagot, Metis and Faktoriya.