The fact that our society, to put it mildly, is not very healthy, I think, it is not necessary to prove. And for some reason, the main fears are turned to the side, if not the head, then the neck, as far as it is applied to fish.
With the "bottoms" who do not want to live in a new way, everything is more or less clear. People express their opinions, go to the protests, write in social networks and not only there. In general, not all Russians like the direction in which they are trying to shove.
And this is just great.
It is great, though not quite correctly, that the St. Petersburg, without waiting for a real reaction to their opinion, themselves decided the issue with the Mannerheim board. Smacks, of course, vandalism, but who prevented the authorities from promptly listening to the opinion of citizens?
I understand the Muscovites who have broken out the memorial plate in honor of Shkuro, Krasnov and his side.
Entirely on the side of Samarans, protesting against the monuments of the White Czechs. This is a novelty in our country that cannot be ignored.
I would like to make special mention of the monuments of Czech legionnaires who had revolted in 1918 in the year of rebellion against Soviet power. In the plural, for they are already installed in several Russian cities. Monuments are set at the expense of the Czech side, works are carried out in accordance with the Czech program "Legions 100", according to which such monuments should be erected by the centenary of the legion.
Is this not a disease - to establish monuments to thieves and murderers? If someone does not know, everything is clear with murders, but about the thieves - as arguments
история
with gold Kolchak.
We are being pushed somewhere, and where it is very difficult to say. But clearly not in the usual way, perpetuating the memory of absolutely not those who should.
Is this not a disease? It's a disease. And not in the protest bottoms, but just at the top, where decisions are made. And these decisions are made very strangely.
I will cite as an example again Samara.
Initially, the monument to the White Czechs, who left behind a very dubious memory, decided to install ... on Krasnoarmeyskaya Street. Not far from the monument to the Red Army, who were shot in 1918 by the same Czechs.
Great thought, isn't it? Reconciliation and all that. Monument to the victims near the monument to the executioners. I applaud while standing, as to those who have invented such barbarism, there and to those who stood against it.
Samara authorities pretended to hear their citizens. And they refused to install the monument on Krasnoarmeyskaya. All is well? Yeah, right now ...
The construction of the monument began ... in the children's park named after the hero of the Civil War Shchors. What is it like?
This, I would say, mockery. It is clear that crowns, euros or dollars from the Czech side overshadowed the rotting heads of Samara officials absolutely. But even in this case it would be worth giving even the slightest observance of ethical standards. Well, Czechs who bought you in bulk, dreaming that the Russians would daily see a monument to those who robbed and killed their ancestors. Well, you sold out. So do everything more or less decently, why do Russians have to spit in the face?
What's next? Vlasov canonized? Or, if, by analogy with the Czechs and Finn Mannerheim, Canaris will begin to put monuments? He was against Hitler.
Everything was somehow strangely intertwined, it was impossible to distinguish the head from the fifth point.
By the way, about the fifth point. Also another performance, and all on the same topic.
Who am I talking about? This is me about Serebrennikov. Also very significant moment.
And the point is not that he stole these unfortunate 68 million rubles. They steal from us more and nothing. And it wouldn't surprise anyone with a house arrest either, although the camera would be more ... to Serebrennikov ... to face.
The essence is different. The bottom line is that there is this phenomenon that calls itself a director, and that house arrest is house arrest, but it is not prohibited for him to work. In order to continue to create netlenku.
Who so rushed to defend the top? "His" utterly or really valuable frame for art? In court, during the meeting, the defense announced the names of cultural figures who agree to vouch for Serebrennikov to be released under house arrest.
Sorry, there is no list of guarantors, but this is understandable.
A couple of words in the form of a return to the past. Not even from the whole soviet generation, personally from himself, as from a theater lover.
Damn, how lucky with the era! In THAT country was a theater. In which they actually went, as if on a holiday, in suits, with ties. Not like now, although now decent people in appropriate outfit meet.
Epoch Directors. Tovstonogov, Lyubimov, Efros, Vasilyev, Akimov, Dodin, Efremov, Simonov.
The Age of Actors. Ulyanov, Ranevskaya, Yanshin, Lavrov, Strezhelchik, Lebedev, Freindlich, Tabakov, Gaft, Livanov.
The era of performances. Yes, it is with a capital letter, because the scene was exactly the action that was born in the minds and souls of Ostrovsky, Chekhov, Shakespeare, Gogol.
Hamlet tied me to the theater. Strange? Not at all. Several times later in my life I watched this performance performed by different troupes in different cities. But the one that I saw on Taganka, performed by Vysotsky, simply conquered, although I confess, I understood it in 15 years because of my childhood. But - that Hamlet I understood and accepted.
And I loved the theater, as it has now become clear for life. And I want (and I wish all the fans) that the output would be only pleasant feelings, but not disgust from what he saw. Thank God, in those days these "geniuses" of the type of Serebrennikov or Bogomolov, who could condemn everything, had not yet arrived.
But, alas, the times are changing, and today, to thunder and become famous, you do not have to be a brilliant director who can do Hamlet or The Cherry Orchard.
You have to be a pederast.
Moreover, it is necessary to be frantic, wanting to rake up one pederast with one comb. Mentally ill, and impose their disease on others.
You can once again put the old classic play so as to cause thoughts in your head and laughter or tears in the eyes of the viewer.
And you can just stick his cock in his face. As in the play "Plasticine".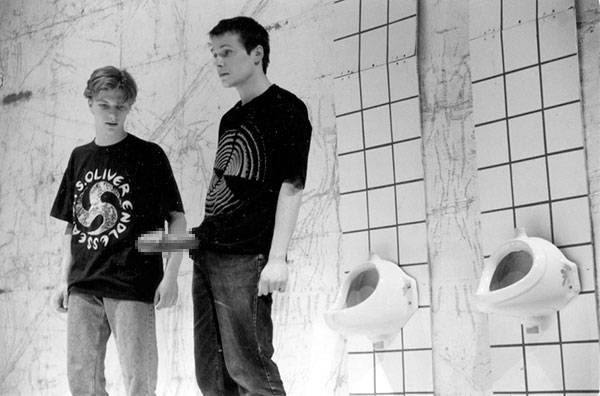 Although Serebrennikov is not without gay genius, it should be noted.
A genius can read Shakespeare, Gogol or Chekhov today in such a way that it will "go down", and quite modern viewers will beat their palms in applause. That happens. For example, "Thunderstorm" Chusovoy. Yakovlev as Kabanihi - well, it's just a masterpiece!
And you can disfigure "Dead Souls" so that the performance of the play will just strike with homosexuality. It is ingeniously difficult, for this you have to be an outstanding pederast.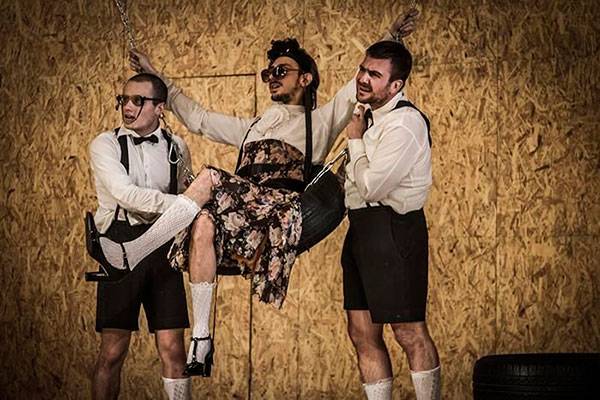 Yes, Mr. Serebrennikov?
A crap making money on perversions. Point. Pervert, ready to show everyone a gay person. Choi, for example.
You know? Not? Theater stage steel Serebrennikov cramped. And he decided to make a film. About Victor Tsoi.
If someone thinks that it would be a film about the riddle of success or something else there, alas. All Serebrennikov films about the life of homosexuals. That is, he makes all people homosexuals. Choi? Why not? Not an icon for gomorezhiser, not an icon.
In the Homo-masterpiece Choi is assigned the role of a young performer who is forced to surrender to the producer, such an image is prepared for Aizenshpis. Then a gay drummer appears who is in love with him, and so on. All around the fifth point.
But why, why is this nonentity so actively intervene? Who??? Who benefits from everything in this country slowly but surely getting upside down?
The people, characteristically, resist. Honor and glory to Russians. But more and more from above they impose a completely different image. From cinema and theater to memorials. Although the first person excitedly and with great importance speak about the need for patriotic work and all that. In fact, with the patriotic work of so-so, but "all that" - more than enough.
Does anyone have any doubts that Serebrennikov will have everything covered up? Personally, I - no.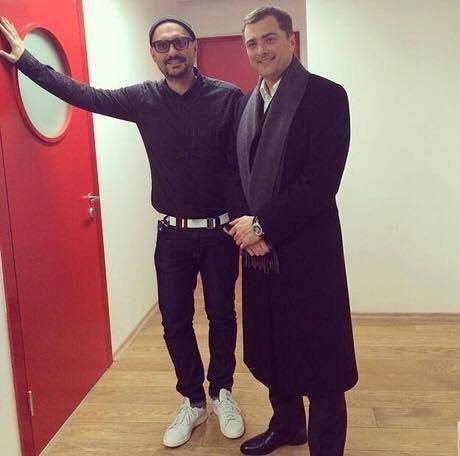 Of course, pull out. On conditional, with offset of a prisoner under house arrest. I am sure that there is more than one such friendly snapshot in the director's personal archive.
And Serebrennikov will go on to roll the netlen. To stick members, bare asses into the viewers' faces and tell everyone for money, that everything is homosexual.
As a piece of advice (although he himself does a good job of it): why not to wipe the classics, eh? Chekhov, for example, do not re-sound? "The Cherry Orchard". Lopakhin did not marry Vara not because he secretly loved Raevskaya, but because he was gay. How is it? Quite so, in Serebrennikov way.
And this is what we call culture?
And monuments to the executioners - the story?
And conditional terms, amnesties and the highest rewards for supervisors - justice?
Tell Colonel Kvachkov. He will appreciate.
There is no fish rot, everything seems rotted. Another question is how much time should pass, and what should be the reaction in order to understand above that this rot is not quite as edible for Russians?
Of course, while television is on guard, there is nothing to worry about. Until. But when the screens broadcast how everything is fine, and behind them in sight frank chaos and mockery, all this will not last long.