On the eve, the lead patrol boat (ship) project 22160 "Vasily Bykov" (serial number 161) was launched. The ship was moved to the filling chamber of the Zelenodolsk plant named after AM Gorky. Recall that from the factory slipway it was withdrawn in June 2017 of the year. Photos of the patrol boat "Vasily Bykov" in the loading chamber of the Zelenodolsk shipbuilding enterprise are presented on the page "Military informant" of the social network
In contact with
.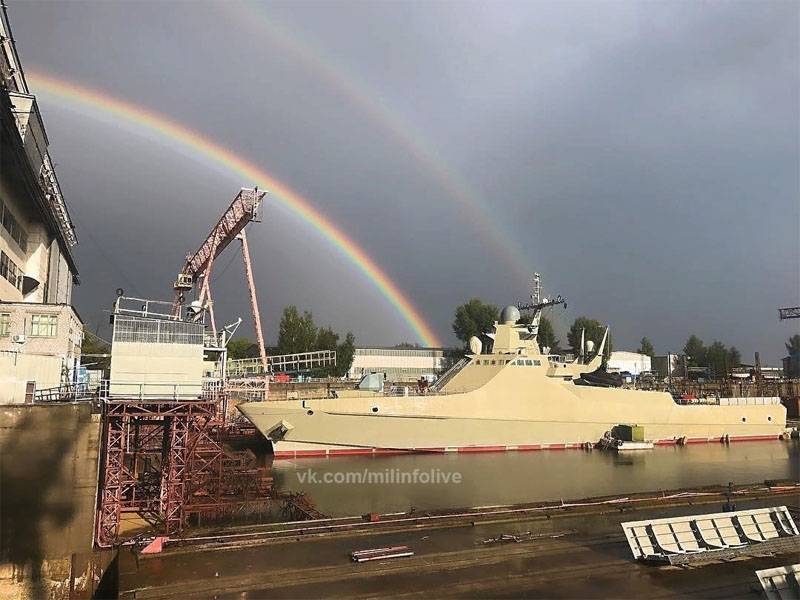 The lead patrol ship of this project is being built in the Republic of Tatarstan for the Russian Navy under a contract with the Russian Ministry of Defense. The contract was concluded in April 2014. It is important to note that the laying of the patrol ship in Zelenodolsk took place two months before the official signing of the contract.
The ships of the 22160 project are created according to the design development of the OJSC "Severnoye Design Bureau", located in St. Petersburg.
Patrol ships can carry onboard a formidable strike armament, represented by Caliber-NK cruise missiles. In addition, the ships of the project 22160 equipped with artillery, anti-submarine and other rocket (not counting the "Caliber") weapons.
In addition, a helicopter may be placed on board the Vasily Bykov (for example, Ka-27).
As seen in the photo, the ship has already received radar equipment.
At the moment, more 4's of such patrol ships are under construction: Dmitry Rogachev, Pavel Derzhavin, Sergey Kotov, and Victor the Great.