There are reports from Poltava that the city committed an act of vandalism against the monument to Peter I and the Russian soldiers who defeated the Swedish army in 1709 year. It is reported that the monument and crosses were doused in blue paint. On the official page of the national policy of the city of Poltava are photographs of the results of the actions of the vandals.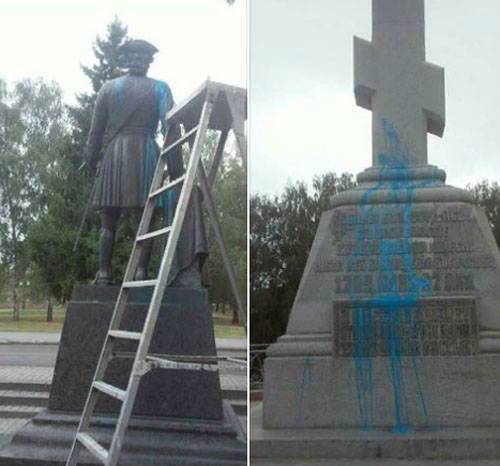 From the press service of the department:
In Poltava, unknown persons poured paint over a monument to Peter I.
On the night of 28 on 29 of August, unidentified persons poured paint over the monument to Peter I and the cross on the mass grave of Russian soldiers who are in the territory of the State Historical and Cultural Reserve "The Field of Poltava Battle".
Damage to the monuments was observed by a reserve worker during a round of the territory in the morning and reported the incident to the police. Now police officers of the number 1 of the city of Poltava find out all the circumstances of the offense.
Apparently, the monument to Peter I in Ukraine's Maidan also falls under the process of "de-communization" ... But seriously, Ukraine has a lot of power, which has been given the task of doing everything to trample our common past, our united
history
. The act of vandalism in Poltava is another confirmation of this.