The Civil Engineering Research Laboratory (CERL) of the US Army (Illinois) announced the successful manufacture of concrete army barracks with an area of ​​512 square. ft (about 46 sq. m) on an 3D printer, reports
bmpd
with reference to www.3ders.org.
The technology of three-dimensional printing of concrete structures was developed by CERL with the participation of NASA.
According to the information, "the production of barracks by 3D printing was carried out as part of the three-year research program of the US Army Automated Construction of Expeditionary Structures (ACES), whose task is to develop methods for building" semi-permanent "military facilities using additive technologies.
ACES provides the ability to print specially designed deployable structures on demand, on-site, using locally available materials,
said CERL ACES program manager Dr. Michael Case.
According to him, the goal of the program is "to enable the army to easily and effectively create structures such as barracks, fences, water pipes and field obstacles on the spot." The same technology can be applied "to assist in natural disasters and catastrophes - this direction is being explored by the army in partnership with Caterpillar," added Case.
One of the main advantages of the technology is a reduction in labor requirements "by 62% compared to the labor costs for more traditional frame structures."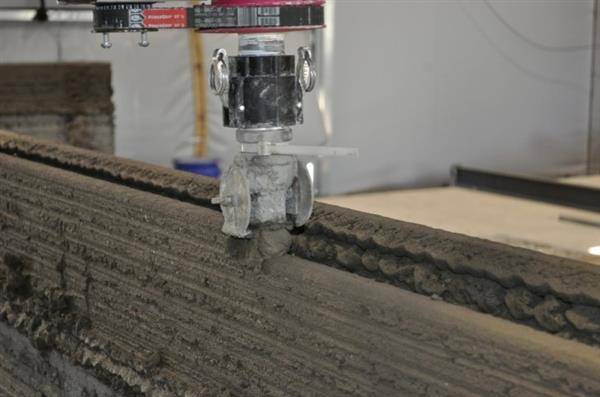 The ACES team has developed, implemented and developed an additive three-dimensional concrete printing technology that really changes the "rules of the game." Unlike previous designs, ACES can use the device with an accuracy of 3 / 8 in. On the concrete used. In addition, in the ACES project, special attention was paid to the methods of reinforcing printed concrete both horizontally and vertically,
noted Case.